Vacation for us food allergy parents can sometimes be more work than vacation. Here are a few tips that can help you prepare for vacation with less work and less stress. These tips work best for vacations where you drive, rather than fly. We always travel with a majorly loaded car!
Before a trip, I spent lots of time carefully packing all of the essentials we needed to take with us and packed it all in various duffle bags. After our last vacation, I knew there had to be a better way. That's when it hit me.  I needed a "Vacation Tub."  To create this, I went to Target and bought a giant sturdy plastic bin. I also went to the dollar store and bought duplicates of cooking utensil essentials. A pasta spoon, a spatula, cooking spoons, measuring cups, etc. I added two muffin pans, a colander, a cutting board with a knife, and any other every day items I could find for a dollar. I washed them all and stored them in the vacation tub. Other items I put in my vacation tub are older pots and pans. I replaced my set last year and these are perfect for my tub. If you don't have an extra set, just pack your pots and pans before you leave.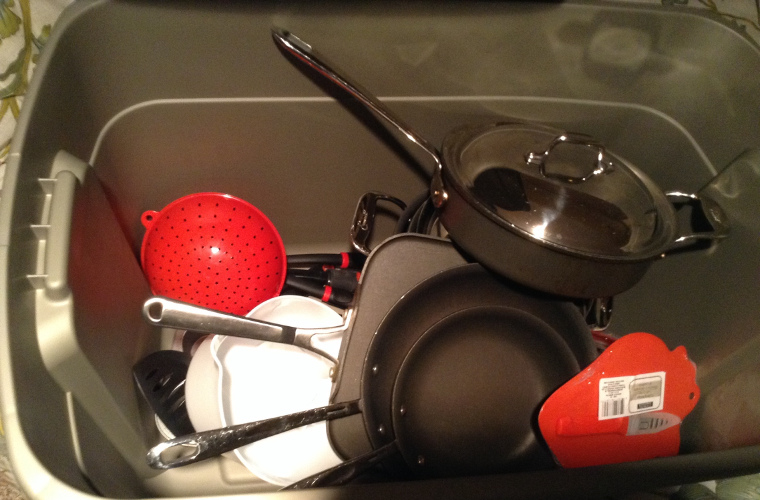 Other items for the vacation tub: Sanitizing wipes, napkins, a few rolls of wrapped paper towels, a clean oven mitt, paper plates, paper or plastic cups, and anything else you might need for a vacation away from home.
A way to slowly stock this tub is to look for clearance items throughout the year. After holidays, the holiday cooking supplies, paper plates, napkins, etc. all go on sale and can even be purchased for up to 90% off! It's okay to use Christmas plates for your beach vacation in July. You can slowly stock your vacation tub this way and save money.
Re-published with permission from Ellie Sears' blog, Blessed Little Family