In this house, we used to eat a fair amount of dehydrated fruits and nuts. My favorite was the Kirkland Dried Fruit & Nut Medley. With peanuts and almonds as the main ingredients, this snack got the boot since my little man has been diagnosed with peanut and almond allergies.
While shopping for portable snacks for the little man, we wanted to buy some dehydrated fruits for him. It is relatively healthy, does not require refrigeration and provides some nutrition. We were unprepared for the ingredients list which included: preservatives (ie. sulfur dioxide), added sugar (ie. cane sugar), oil, and most of the packaged dried fruits we found contained nuts or have traces of nuts. Amazing how reading labels shocks you eh?
As part of our little man's allergy management, we now eat almost all of our meals at home. This resulted in significant savings in our dining out budget. My husband used the money saved to purchase a food dehydrator which can dehydrate practically anything: fruits, vegetables, herbs, milk and even meat jerky (another one of my weaknesses).
"The Beast"
Over this weekend, we put "The Beast" (my nickname for our dehydrator) to the test. In our initial batch we dehydrated 6 tomatoes, 5 apples, 4 pears, 2 peaches, small bunch of grapes, and a pound of red and yellow cherry tomatoes. Amazingly, all that fit into the 9 trays. The next day, I dried 8 bananas, a bunch of kale and some homemade hand molds.
Uniformity is the key to successful dehydrating. A good mandoline is a huge time saver.
The dehydrated food tastes amazing since the fruits I purchased were in season, so they are naturally sweet. We did not add any sugar or preservatives to our dehydrated loot and it is nut free too!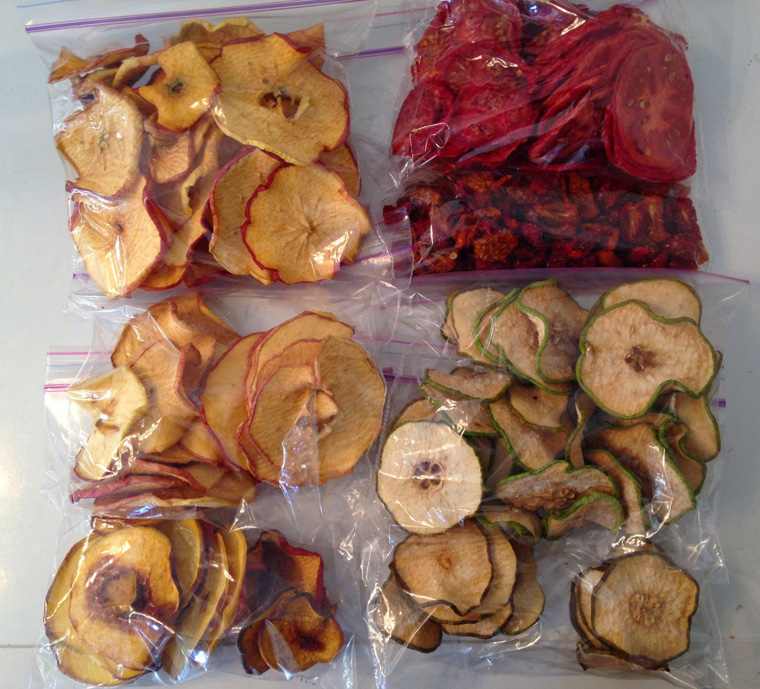 Top left clockwise: Dried apples, tomatoes, cherry tomatoes, pears and peaches.
My husband figured it costs between $0.03 to $0.06 per hour to run "The Beast". Most fruits and vegetables take an average of 5 to 10 hours to dehydrate so you are looking at about $0.60 in electricity. The total cost of your finished product depends on the cost of your raw ingredients and if you factor in other costs (such as gas, your time and the cost of the dehydrator). For us, it is the right move as our little man can enjoy fruit on the go, sans nut traces, sugar and preservatives. For an allergy mom, you truly cannot put a price tag on the peace of mind.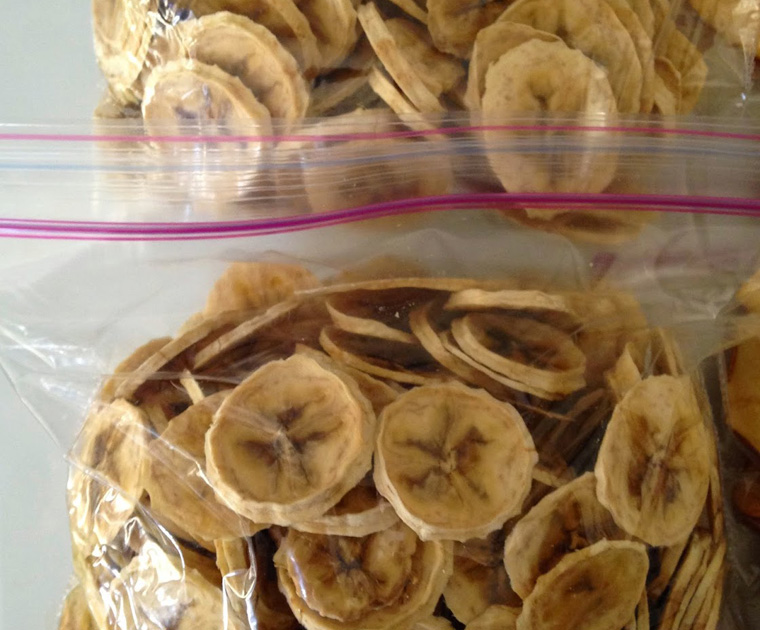 Dried bananas: 8 bananas yield a sandwich bag and half of banana chips. No oil or sugar added.
Choosing a Food Dehydrator
There are various models of food dehydrators available. I recommend that you do some research and find one that is right for you and your needs. Some things to think about when choosing a food dehydrator are:
Uses for the dehydrator
What do you want to dehydrate: fruits, vegetables, meats, yogurt or herbs?
How frequently would you actually use a dehydrator
If it sits unused, it is actually a better idea to use your oven or purchase dried food.
Reasons for purchasing a dehydrator
Do you have access to an abundance of fresh fruits and vegetables through a CSA box or your own garden, are you buying it for health reasons (food allergies, diabetes, etc) or lifestyle (want less chemicals and sugar in your foods)
Amount of food it can dehydrate in one batch and if the shelves are adjustable
"The Beast" has nine 15 square inch trays and each shelve is adjustable
Current consumption of purchased dehydrated foods
If you purchase dehydrated fruits as much as I did, it might be a good idea to dehydrate your own.
Cost of the food dehydrator
With appliances, my current philosophy is to spend a little more to get a better quality appliance. I have had way too many cheap appliances bust on me time after time. That said, there are reasonably priced models which offer good value in the $40 to $70 range: such as the Nesco Snackmaster Pro, Nesco Snackmaster Express or Nesco American Harvest with Jerky Gun.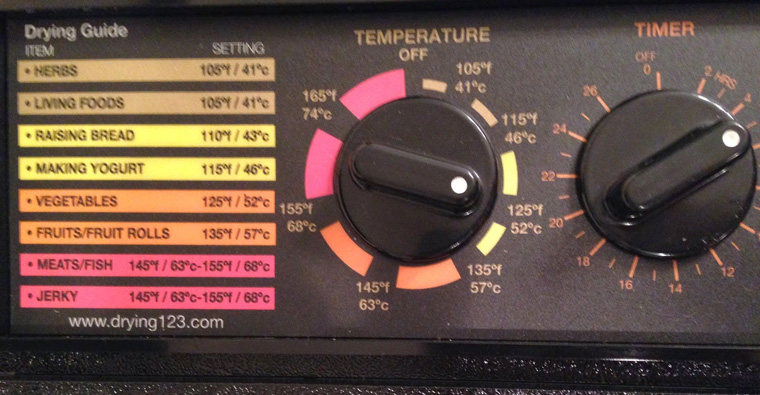 The 26 hour timer and adjustable thermostat won my husband over.
My husband bought "The Beast" (known to everyone else as the Excalibur 3926TB Food Dehydrator) as it has a 26 hour timer, adjustable thermostat from 95°F to 155°F (can safely dehydrate meat jerky) and 9 trays capacity (15 square inches per tray). "The Beast" also has the capability to make fruit leather and yogurt as well.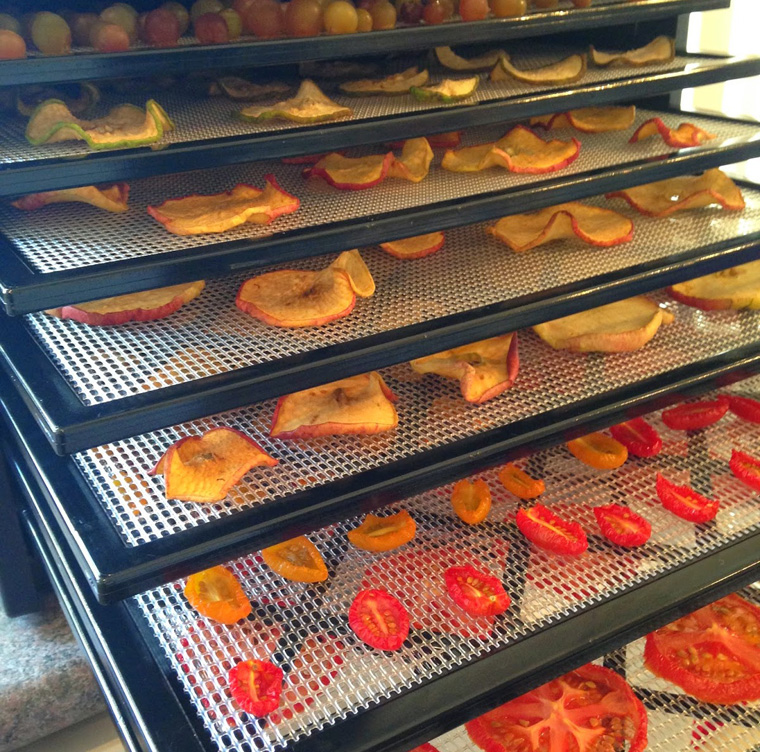 Half way through the dehydrating process. Grapes take 22 to 30 hours hence why they still look plump.
We have a long list of foods we are keen to try. I am looking forward to sharing with you my adventures with "The Beast".
Tips for Selecting Food for Dehydration
Purchase fresh in season fruits and vegetables. These are naturally sweet and will also be the most cost effective.
Pick ripe (but not overripe) and blemish free produce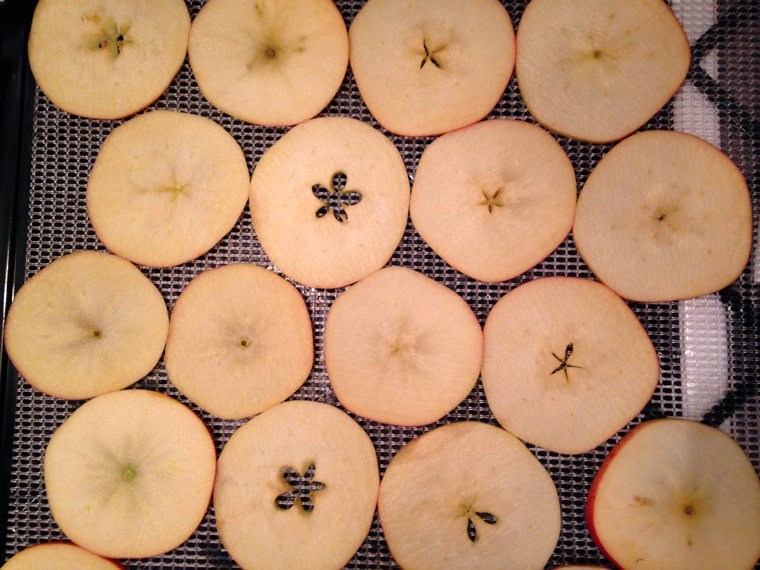 Beautiful apple slices. I will have to top it with some cinnamon next time.
Preparation
Use only fresh produce
Dehydrate foods within a day of purchase to maximize flavor
Sort through the produce and set aside any bruised or overripe produce for another use.
Thoroughly wash produce and remove all pits and cores
Use a mandoline (or sharp knife) cut slices of fruit into uniform sizes. This is to ensure that they all dry at the same time.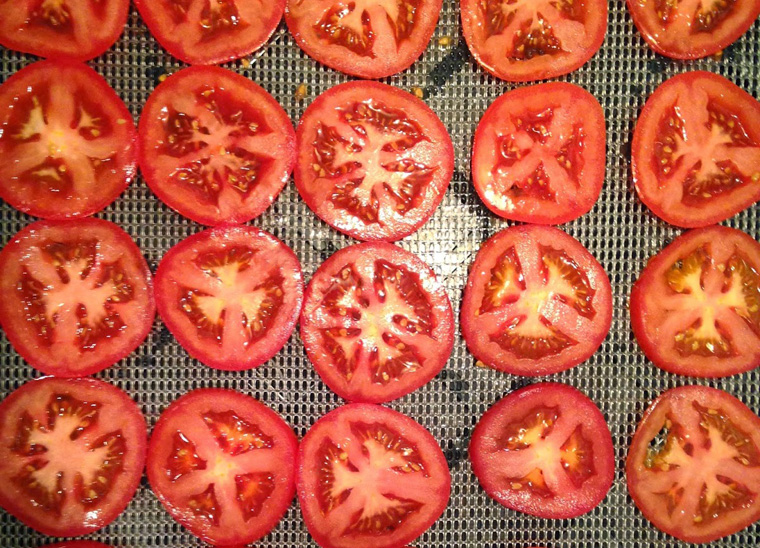 Tomatoes on the vine.
Drying
Whether you are using a food dehydrator or the oven, place food in a single layer leaving some space between each piece
If using the oven, use parchment paper or nonstick baking mats (such as a Silpat).
Please consult your dehydrator manual for times.
Excalibur 3926TB Food Dehydrator Dehydration Times (Based on my two batches)
| Food | Temperature | Time |
| --- | --- | --- |
|  Tomatoes | 125 degrees F | 5 to 9 hours |
| Apples | 135 degrees F | 7 to 15 hours |
| Pears | 135 degrees F | 8 to 16 hours |
| Peaches | 135 degrees F | 8 to 16 hours |
| Grapes | 135 degrees F | 22 to 30 hours |
| Bananas | 135 degrees F | 6 to 10 hours |
Dehydration Time Using Traditional Oven (Recipe on Link)
| Food | Oven Temperature | Time |
| --- | --- | --- |
| Tomatoes | 250 degrees F | 4 hours |
| Apples | 200 degrees F | 2 hours and 40 minutes |
| Pears | 200 degrees F | 5 hours |
| Peaches | 170 degrees F | 4 to 6 hours |
| Grapes | 200 degrees F | 2 hours and 30 minutes |
| Bananas | 250 degrees F | 1 hours and 30 minutes |
TIP
If you do not have the time to dehydrate your own fruit, look for dried fruits with no sulfite and little or no sugar added. We have found a few good products at Trader Joe's.
Re-published with permission from FrugalAllergyMom's blog, Frugal mom to a nut allergic child