The moment I wake up, the obstacle course begins. I navigate through a series of challenges every morning —  clothing and feeding three kids, then herding everyone out the door and into the car. The morning race is won when we're all buckled in our seats and finally rolling out the driveway.
When my son was initially diagnosed with multiple food allergies, I found it very challenging to find nutritious, high-protein and easy-to-prepare meals to start our day. Breakfast is a difficult meal to plan when you need to avoid eggs, dairy, peanuts, tree nuts and gluten. With time and familiarity, we were able to find some allergy-friendly cereals, waffles and nut-free spreads that worked for our family, but I'm always open to adding more variety into our morning ritual.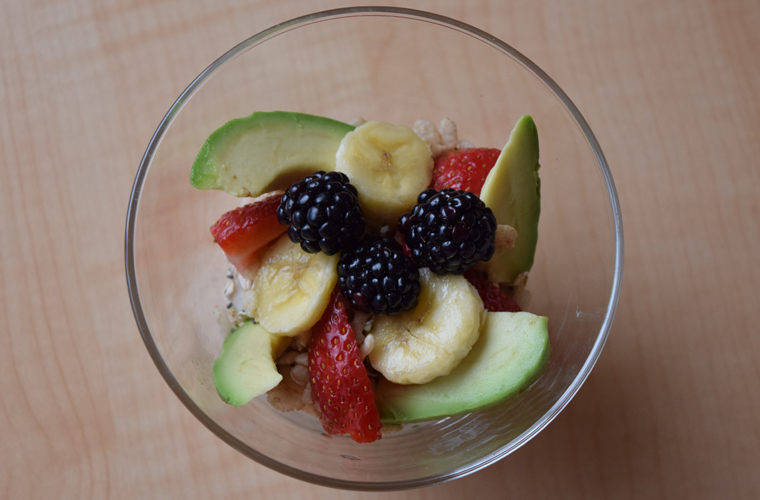 I've been looking for a way to feed my family a high-protein and high-fibre breakfast with a full serving of fruit. I was pleased to find that  iögo products are all gluten-free and do not contain peanuts, eggs, tree nuts, wheat, soy, sesame seeds, mustard, fish or seafood. As an added bonus, all iögo products are made from fresh milk and real fruit and do not contain gelatine or any artificial colours or flavours. It now even comes in a resealable and convenient pouch! With this fun discovery, I decided to give our toaster a break and started serving yogurt breakfast bowls.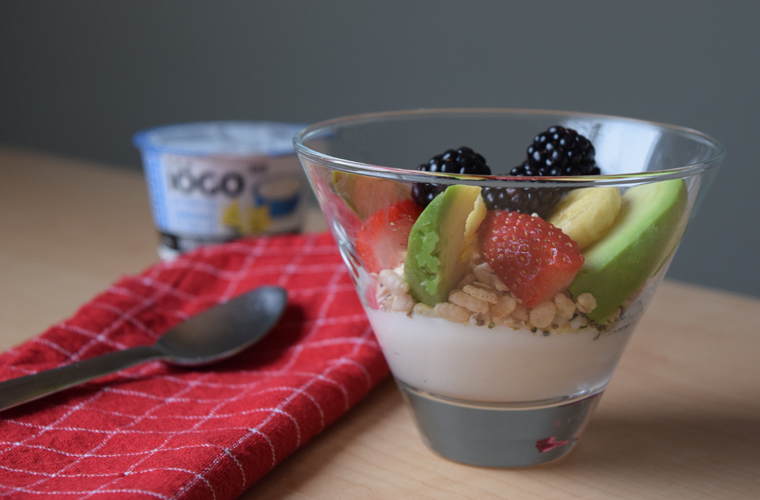 Making breakfast bowls actually makes our morning rush more simple. I just set out empty bowls and prepare the meals in an assembly line. I use dairy-free yogurt for my son, and the rest of the family gets high protein iögo Probio yogurt.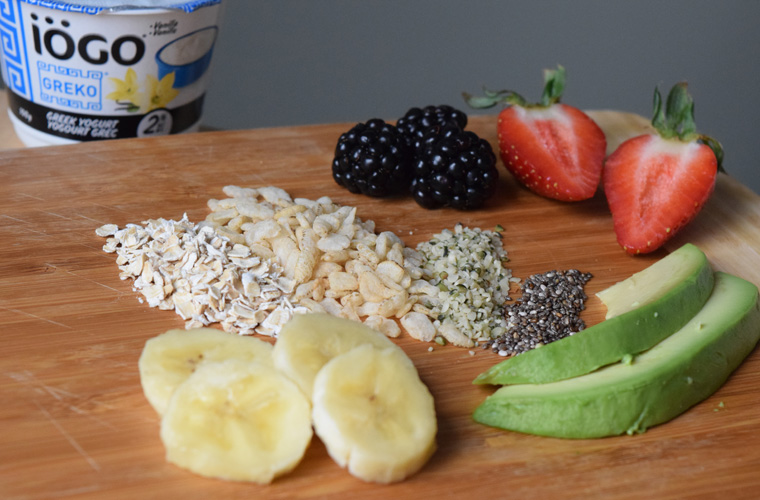 The next layer consists of gluten-free oats and cereal to add some crunch and texture. I add some shelled hemp seeds and chia seeds for a healthy dose of protein, fibre and omega 6 and 3 fatty acids, and then top off the bowls with some chopped avocado and some of our favourite fruits. The final touch is a drizzle of maple syrup, because just enough maple syrup makes everything taste better!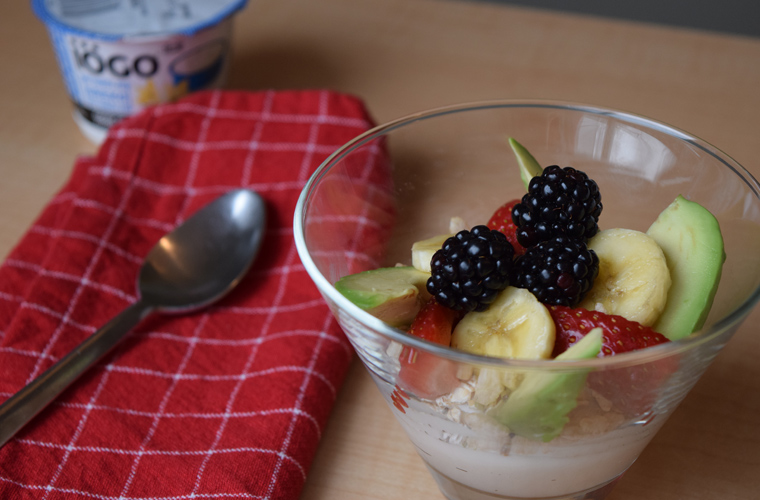 Gluten-free, Nut-free High Protein Yogurt Breakfast Bowl Recipe:
½ cup or 100ml iögo Probio Vanilla Yogurt (or dairy-free yogurt)
2 tablespoons gluten-free oats
2 tablespoons gluten-free, nut-free cereal
2 tablespoons shelled hemp seeds
1 tablespoon chia seeds
1/8 avocado (sliced)
1/2 cup of your favourite fruits chopped (banana, strawberries, blackberries)
Drizzle of maple syrup or honey to taste (optional)
Makes 1 breakfast bowl
Preparation:
Spoon yogurt into an empty bowl to make the base of the breakfast bowl
Spoon 2 tablespoons each of oats and cereal on top of yogurt base
Spoon 2 tablespoons of hemp seeds and 1 tablespoon of chia seeds overtop
Slice avocados and fruit into ½ inch cubes and spoon approximately ½ cup on top of cereal.
Drizzle with maple syrup of honey to taste. Serve cold.