When we first learned of my sons multiple food allergies I felt completely overwhelmed, especially in the kitchen. Almost all packaged goods we previously consumed contained his allergens and I only had a handful of dairy-free, egg-free, nut-free and gluten-free recipes. That first year we ate a lot of rice, steamed vegetables and meat seasoned with salt and pepper. This all started to feel monotonous after a while, and I found myself getting bored of eating. That's when I knew I needed to introduce more variety into our diets.
I started to think back to the meals I prepared before food allergies entered our lives, and remembered that Sheppard's Pie, or Pâté Chinois as my husband's family refers to it, is a meal that could easily be made allergy-friendly. My son was just starting solids at that time and it also happened to be a perfect food to transition to from purées. I decided to hype up my pie with veggies and extra legumes to add extra iron and protein to the meal, which also happened to be some of the nutrients my son missed out on because of his dairy allergy.
I find Sheppard's pie to be a time consuming meal to prepare, so I usually cook it in large batches so that I can make an extra dish or two for the freezer. This Dairy-free Sheppard's Pie recipe makes 2 large dishes. One can be eaten that night, and the other can be placed in the freezer for consumption at a later date. I like to purchase the disposable aluminum baking dishes for the pie that will be frozen. When ready to cook, you can place the pan directly into the oven from the freezer without needing to defrost.
Start by making the mashed potatoes for the top layer. I like to blend yellow potatoes and sweet potatoes together. You can also add cauliflower to the blend for additional fiber. When the potatoes are cooked, drain water from the pot or remove potatoes and place them in a bowl. Add 4 Tbsp of vegan butter and 1/4 cup of dairy-free milk alternative to the potatoes. Mash with a fork or potato masher, and season with salt and pepper to taste.
The next step is to prepare the filling. This is a step that can be done the night before. Cook the ground beef, drain fat and set aside. Using the same saute pan, heat olive oil and add chopped onions and carrots and cook until tender. Add peas, green beans, cooked lentils and minced garlic. When all the vegetables are tender, add the ground beef, bay leaf and gluten-free soy sauce (or water or broth for soy-free version) to the vegetable pan and stir together. Add salt and pepper to taste.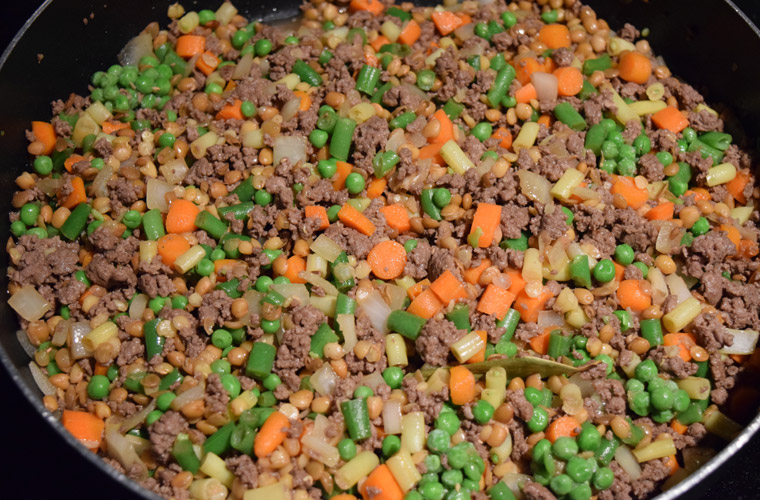 Finally, it's time to assemble the Sheppard's Pie. Place your two large baking dishes (8×13 casserole) side by side on the counter.
Divide the beef and vegetable filling evenly between the two baking dishes. Spread the beef in an even layer.
Pour one can of cream style corn evenly over the beef and vegetable filling. Repeat for second dish – each pie gets one can of creamed corn.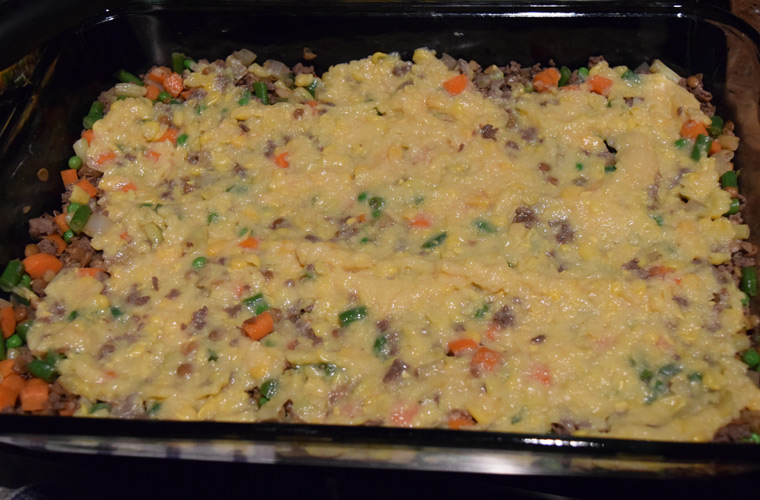 Divide the mashed potatoes between the two large casseroles. Spread evenly over filling. Rough up the surface of the mashed potatoes with a fork so there are peaks that will get well browned. You can even use a fork to make creative designs in the mashed potatoes.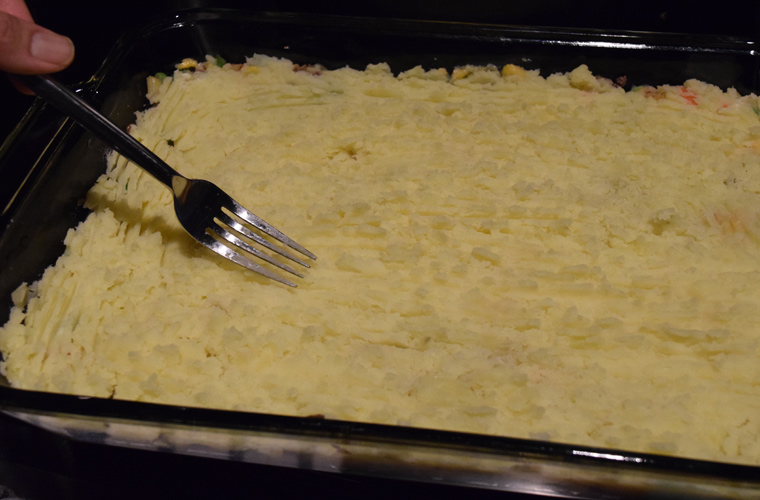 Place in a 375°F oven, cover with foil and bake until bubbling, about 30 minutes. Remove foil and continue to bake uncovered for another 20 to 30 minutes. If necessary, broil for the last few minutes to help the surface of the mashed potatoes brown.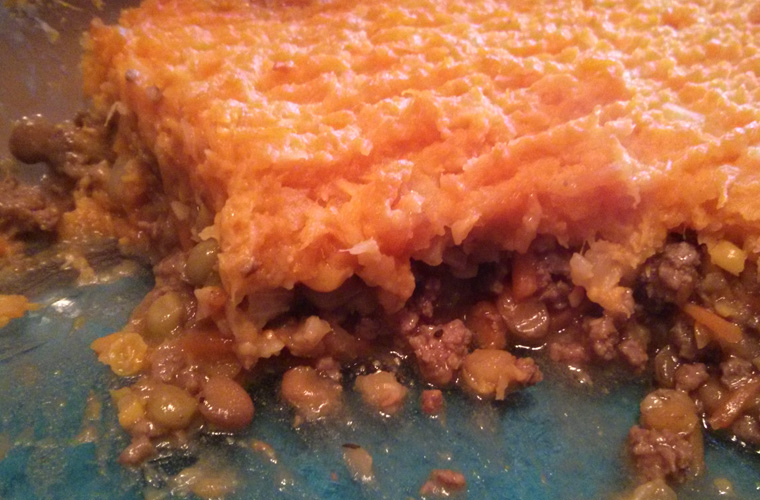 For complete ingredients and detailed instructions, view the complete Dairy-free Sheppard's Pie recipe.