"It's not as challenging as people may think," Matt said casually as he assembled his burger. His wife Pauline, a self-described foodie, nodded in agreement between bites adding, "We now eat healthier and have actually lost weight." The topic on the menu was how they manage their new eating lifestyle since finding out their son has multiple food allergies.
The active and hands-on couple of two young children got me thinking. If you had asked me a few days ago, I would have disagreed with that statement. You see, when we set a date to get together for a BBQ earlier in the week, I was pretty excited to flex some culinary muscles for my friends…until I started meal planning. Planning around what I could and couldn't serve definitely felt more challenging than my usual BBQs. I quickly noticed that I cook and eat a wide variety of food containing common allergens at every meal. And since I have no family and friends with severe food allergies, I knew little about how to entertain guests who do have them.
Yikes, what to make?!? (I may have panicked a little.)
Luckily, it didn't take long to realize that with some basic knowledge around the topic, there was no need to panic. In an effort to spare anyone else from a similar moment of panic, I compiled the following non-exhaustive list based on what I've learned – six simple steps and you're good to go!
Six Simple Steps to Entertaining Guests with Food Allergies
Ask and you shall receive

Fairly straightforward, but it's the key to being a great host and keeping your guests safe. Your conversation can include topics such as:

Which foods are off-limits.
Examples of typical dishes they can eat for each course you plan on serving.
A few options for your guests to choose from.
If appropriate, let them know you're comfortable with them bringing a dish of their own.

On that last point, I noticed that whenever Pauline is out, she has prepared food packed for her son. It really gives everyone peace of mind knowing her son will be safe, not to mention have plenty of food to eat. What a smart cookie! (Speaking of which, you should try the Vegan Gluten-Free Chocolate Chip Cookies. Yum!)

Your guests will appreciate that you are taking the time to ask the right questions and will likely provide you with easy-to-prepare suggestions. Remember, they don't want to burden you—they just want to enjoy your company.

Expand your recipe repertoire

Do some browsing online for allergen-free recipes. With two little ones of my own and limited time for food prep, I was on the hunt for delicious, quick and easy recipes. I found that hypefoodie.com fit my criteria with recipes such as the Gluten-free Egg-free Crustless Mini Quiche, Sweet Balsamic Herb Lamb Chops and Dairy-free Vanilla Maple Coconut Ice Cream. Virtually all the recipes call for ingredients I already have on hand. Love that!

Enlist a sous chef

… in the form of pre-packaged food, that is. Just make sure the item is prepared in conditions which meet your guests' allergy restrictions. For example, I quickly jazzed up Enjoy Life's boxed cookies by dipping them into their baking chocolate, which I had melted. See the 5-minute recipe here: Dairy-free Gluten-free Chocolate Dipped Crunchy Shortbread Cookies. I could have also used HypeFoodie's ice cream between two of the cookies for a kid-friendly ice cream sandwich, or prepared chocolate-dipped banana pops, or chocolate-dipped strawberries to name a few possibilities. Use any allergen-free products to kick-start your apps, mains, desserts, etc., being mindful of Steps 4 and 5.

Read the labels

Although food manufacturers and importers provide it only on a voluntary basis, the "May contain" labelling is quite helpful if cross-contamination risks exist. When buying pre-packaged food to serve, make a point of reviewing the allergen content.

For example, my husband bought two different types of plain hummus by the same brand: one indicated that it may contain a series of allergens and the other did not include this information. We showed Pauline the labels and she chose to pass on both.

If you'd like to serve pre-packaged food, you may want to serve it in its original packaging for your guests to review. If you prefer to transfer the food into a (very clean, uncontaminated) serving dish, label what you're serving. This helps your guests make an informed decision as to whether or not they feel comfortable eating it.

Keep it clean

To avoid cross contamination, wash your cooking equipment, surfaces, dishes, bowls, utensils, etc. with a fresh sponge and hot soapy water.

I'm sure it goes without saying, but be sure to keep your hands clean as well. I like using latex-free food-safe gloves—they make it easier to keep hands spotless and free of contaminants.

Remember to avoid cross-contaminating allergen-free food with other food or utensils during meal prep and serving. It would also be helpful to let your guests serve themselves first to ensure their food does not inadvertently get cross contaminated.

Let the fresh food shine

Using fresh, quality food helps keep the food prep simple. Just season with a light hand allowing the food's freshness to be your main ingredient. Also, it's safest to steer clear of pre-marinated meat and only use sauces, dips, and marinades if you know exactly what's in them.
You'll notice that the above steps were mostly a matter of common sense. Matt was right; hosting an allergen-free meal isn't a challenge after all. In my experience, it was simple, healthy and kept everyone safe! I actually had more time to enjoy my friends' company because I was not distracted by fussy food preparation.
That said, I was fortunate to have gracious guests who helped make it a memorable and stress-free experience. The homemade desserts they brought were a nice touch because we were all able to enjoy them and their son did not feel singled out with a different dessert. And in case you were wondering, allergen-free food can taste great! A true testament to this was when my husband, who does not have a sweet tooth, polished off the leftover Vegan Gluten-Free Chocolate Rice Krispie treats after our friends had left.
Good food is always fulfilling, but good friends and their well-being is, as they say, priceless. You can have the best of both when entertaining guests with food allergies if you keep in mind my Six Simple Steps. Now that's what I call icing on the (cup)cake! (Did I mention that I may have "sampled" three of them?)
Happy entertaining!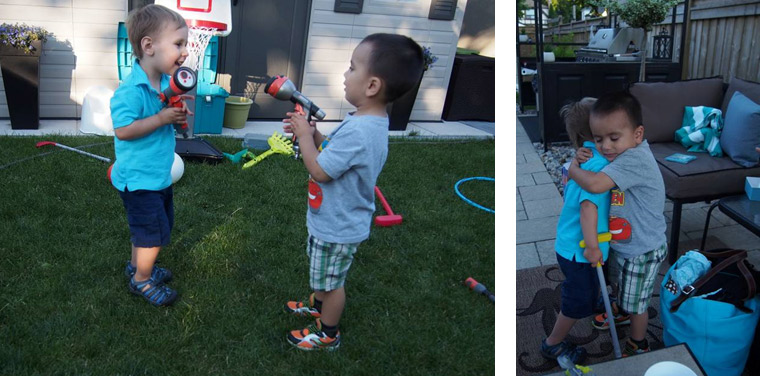 When Dianna is not preparing awesome food for her family and friends, she is enjoying spending time with her husband and two boys. She frequently finds herself on the hunt for the best cupcakes and gelato…and for time to run or swim off the extra calories.