September 24th, 2017 will mark the 2nd Annual Walk for Andrea.  It is an official community fundraiser for the Hospital for Sick Children in Toronto. All funds raised go to the Sick Kids Food Allergy and Anaphylaxis program to find a cure for food allergies.
The Walk is held in memory of Andrea Mariano, an 18 year old from Ontario, who died of an anaphylactic reaction during her first week at Queen's University in September 2015.
Interview with Jyoti Parmar, the Organizer of The Walk for Andrea
In an exclusive interview with Jyoti Parmar, the organizer for the Walk for Andrea, Jyoti shares what inspired her to organize The Walk and what she hopes to achieve. Here are highlights from our conversation:
Tell us about yourself. Why do you advocate for food allergies?
I am a mother, wife and dentist. I have three children ages 13, 10, and 7.
Two of my children have anaphylactic food allergies. My 13-year-old son is allergic to peanuts, tree nuts and soy and my 7-year-old daughter is allergic to dairy, eggs, peanuts and tree nuts. My youngest also has Asthma. Because my children are allergic to everyday foods and food is involved in almost every activity I have to advocate for them so they can be safely included in those activities. In order to ensure the safety of my children I have to teach them to always carry their life saving medications, check labels, ask before eating and ultimately advocate for themselves. I must also teach those around them about dealing with food allergies.
I wish I had met Andrea. I did not know her but I think of her often and I will never forget her. And, we will not let her be forgotten.
My advocacy started with the need to protect my own children but has lead to the need to help others facing the burden of food allergies.
I advocate for those with food allergies because raising food allergy awareness is vital in order to keep all those with food allergies safe and included. Increasing awareness will increase understanding and empathy which will result in increased safety for those living with food allergies.
I passionately advocate for the concept of shared responsibility where it takes more people than the individual with the allergy to keep them safe. The responsibility to keep food allergic individuals safe starts with the individual but must include the food industry, food service providers, health care professionals, legislators, public health agencies, staff at all levels of education, and the list goes on.
What inspired you to organize this event?
In September 2015, Andrea Mariano started her first year at Queen's University in Kingston, Ontario. She was 18 years old and allergic to peanuts and dairy. Her life was one of constant vigilance to ensure she was not exposed to her allergens. Tragically, she had an anaphylactic reaction to a drink she ordered from Booster Juice on campus and passed away on September 18, 2015.
Andrea grew up in Thornhill about 15 minutes from where I live. When I heard of her death I was devastated. I did not know her or her family but her allergies are similar to those of my children and her death solidified fears I have for my own children.
At the time of Andrea's death my husband, Peter Deboran, and I had already been talking about doing a fundraising walk to find a cure for food allergies for a few years. Andrea's death jolted us in to action. We reached out to the Mariano family and met them for the first time in February 2016. In an effort to turn pain in to purpose we joined with them along with other friends and family to organize and hold the first annual Walk for Andrea in the Fall of 2016 which raised over $17,000 for the Sick Kids Food Allergy and Anaphylaxis program.
Although I did not know the Mariano Family until after Andrea's death, their strength and courage in the face of tragedy guides and strengthens the Walk for Andrea movement. I wish I had met Andrea. I did not know her but I think of her often and I will never forget her. And, we will not let her be forgotten. We will continue to work together to honour Andrea's memory and ensure a cure is found.
Who do you hope will attend/register for this walk?
The Walk for Andrea is for everyone.  Everyone can understand that the loss of a child is an exquisitely painful one; the pain of such a loss never goes away.
The Walk for Andrea is about expressing compassion, empathy and understanding for the difficulties faced by food allergic individuals and their families. The Walk is also an opportunity to honour Andrea's memory in a public way. We are hoping individuals and families with children with food allergies will attend the walk so they can see they are not in this struggle alone and that work is being done to find a cure food allergies. We also hope that people from all over Toronto and the Greater Toronto Area attend the walk whether they are directly connected to food allergies or not.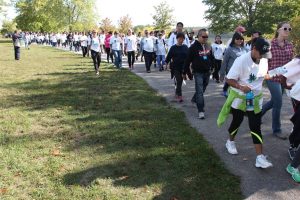 Last year we had over 250 participants join us for the First Walk for Andrea. People who suffer from food allergies or care for food allergic individuals attended the event as well as those who knew Andrea or her family. There were also many attendees who had no connection to food allergies but upon hearing about Andrea's story they came out to support the event.
What do you hope to achieve with this annual event?
The mission of the Walk for Andrea is to help people with life threatening food allergies by Raising Awareness, Advocating for their Safe Inclusion in everyday activities and to Fund Research to Find a Cure for food allergies.
We raised over $17,000 last year and our goal for this year is $35,000.
Andrea's sister, Kristina Mariano has told us that Andrea always wanted to improve the life of others and make our world a better place. The Walk for Andrea is also a reminder of the real danger of food allergies and we hope by raising awareness we will make the world safer for those with life threatening food allergies.
***********
The second annual Walk for Andrea is on Sunday September 24, 2017 at the Milne Dam Conservation Park in Markham, Ontario.
For more information about this year's Walk, visit walkforandrea.ca.  Stay up to date about the event by following @walkforandrea on Facebook, Twitter and Instagram.