When we found out my child had a dairy allergy, it was devastating for many reasons. Aside from the fact that a large majority of packaged and restaurant foods are made with some sort of dairy, there were also cultural factors that made his dairy allergy feel even more tragic. My inlaws are from Quebec, Canada where many artisanal cheeses are produced and consumed. I'm embarassed to admit it now, but the fact that my child would never be able to enjoy poutine from a snack bar is something that I actually shed tears over. You might be wondering what poutine is: it's basically french fries and cheese curds topped with gravy. Not at all healthy, but it was part of many happy childhood memories. Fast forward 3 years … my child has not outgrown his dairy allergy, but I'm much less dramatic about trivial things and much better at finding dairy alternatives.
This weekend we finally decided to make poutine at home for my son to taste for the first time. Poutine is actually a fairly easy dish to prepare because it only involves 3 ingredients that are layered in a specific order: french fries, cheese, gravy.
The fries were simple to make. We chopped up russet potatoes and fried them in our deep fryer. Baked fries are an excellent option if you're watching your waistline.
For cheese, we used Daiya mozzarella shreds, which was a great dairy-free alternative to the cheese curds. It was not too salty and softened under the hot gravy.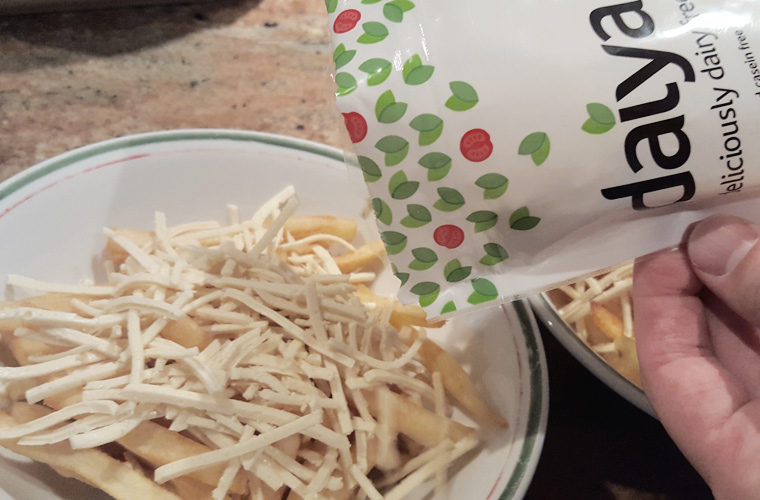 The final layer was the gravy. I was hoping to find a gluten-free, dairy-free envelope or canned gravy in the grocery store. To my surprise, every single package or can of gravy contained wheat flour or modified milk ingredients, and about half of them had MSG. That's when we decided to make our own gravy at home with some gluten-free beef broth, mushrooms, vegan margarine and tapioca starch. The Dairy-free Gluten-free Gravy was very tasty and surprisingly easy to make.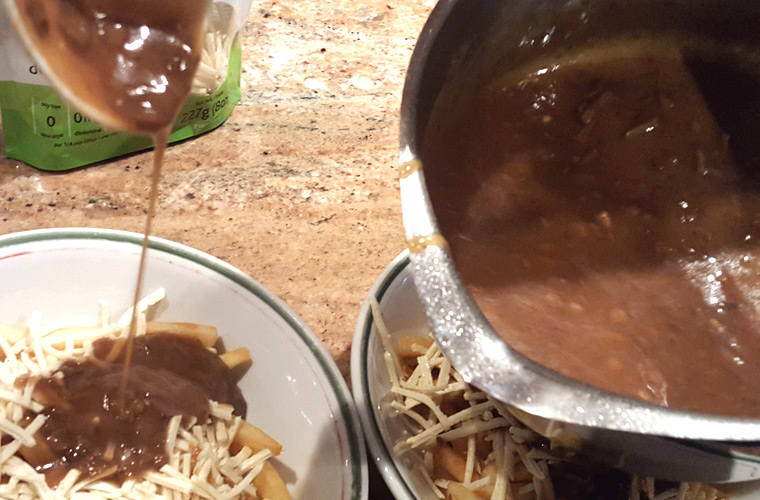 The end result was a delicious, hearty and most importantly, safe poutine for my child.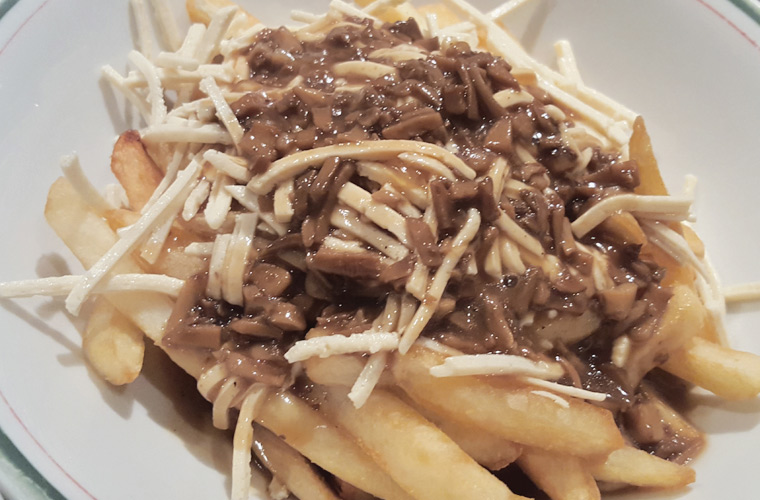 I was finally able to share my the memories of my childhood with my kid.