Somethings are better homemade. Such is the case with this vanilla rice milk recipe.
On a recent grocery trip, I saw rice milk on sale for $2 for an one litre carton. As part of our nut-free life (my little man has peanut and almond allergies), we read every label and ingredients list. And what do you know, the rice milk has a "may contains" statement for tree nuts so we did not buy it.
Eleven months into nut-free living, I have grown accustomed to making things from scratch. So why not make my own rice milk? I searched the internet and came across a recipe posted by Vitamix (who makes high speed blenders) for a rice milk recipe that only uses 3 ingredients.
The recipe is incredibly simple, yet I still managed to screw it up.
The first time I made it, I doubled the recipe. In my attempt to cajole a hungry toddler, I left out a tablespoon of sugar. Then I added too much of the wrong type of vanilla extract (instead of clear vanilla) which turned the rice milk to a chocolate brown color. The last mistake I made was that I did not blend the rice milk long enough which made the rice milk lumpy. Three big mistakes for an almost foolproof recipe that has only 1 step.
Before I started this blog, I would have called it a day and tried it another time. Since I am committed to all of you, I decided to make this rice milk recipe again.
After following instructions properly this time and learning from my mistakes, the rice milk turned out nice and creamy. My husband and I both agreed it is quite delicious.
This recipe is free of all allergens (except rice), cheap (it costs pennies to make), environmentally friendly (no carbon footprint) and best of all, it is tasty (and free of safflower oil which is in commercially made rice milk)! Have I convinced you yet?
So say farewell to the tetra packs of rice milk and say hello to homemade rice milk. Cheaper, tastier and better for you and the environment!
Ingredients
1/2 cup cooked rice (white or brown, long grain or short grain), cooled to room temperature
2 cups cold filtered water
1 tbsp sugar (white or brown) or sugar substitute (honey)
1 tsp vanilla (optional – regular or clear)
More water for diluting (optional)
Directions
1. Add rice, water, sugar and vanilla to a blender and close the lid.
High speed blender (Vitamix, Blendtec): Blend on high for 3 minutes. (Vitamix instructions only: Select variable 1. Turn machine on gradually to variable 10 and then to high. Blend for 3 minutes or until desired consistency is reached).
Regular blender: Blend on high for 5 to 7 minutes or until the desired consistency is reached. You can strain the rice milk for a smoother taste.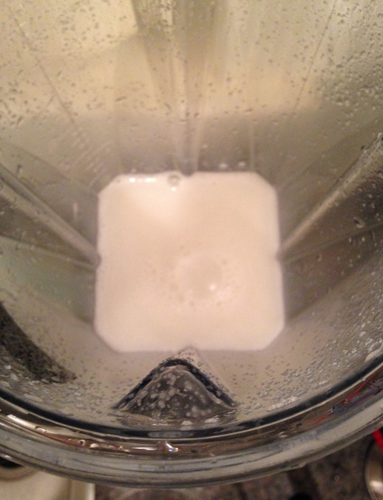 2. Taste and dilute with more water (if needed). Refrigerate the rice milk until it is chilled. Shake before drinking.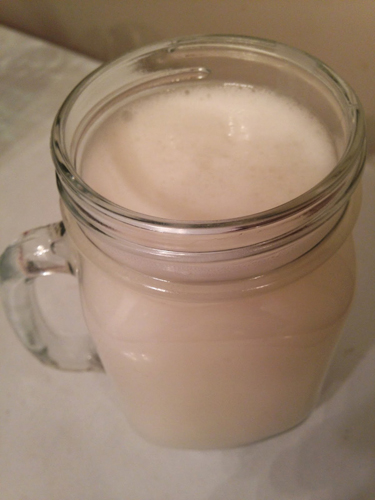 TIPS
If you use white rice, use clear vanilla and white sugar unless you want chocolate colored rice milk. I love chocolate so if it is chocolate colored, it better have chocolate in it!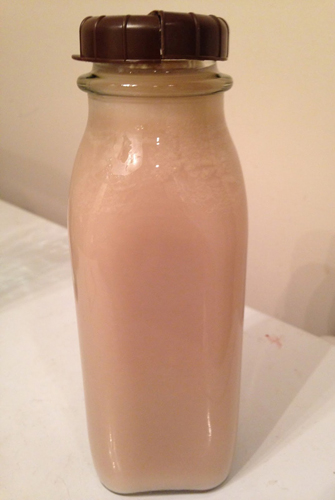 Use more sugar if you like your rice milk sweeter
Blend the rice milk in batches if you are doubling or tripling the recipe.
Chill the rice milk in the refrigerator for at least an hour or two.
Re-published with permission from FrugalAllergyMom's blog: Frugal mom to a nut allergic child.