We've all thought about it, but they did it. Chef Neil Lomas and Registered Nurse Wendy Zeh, co-owners and partners in life, opened FEAST, Toronto's first allergy-friendly gourmet food store. All items in store, including meals prepared from their in-house kitchen are gluten-free, and free from the top 8 allergens: wheat, dairy, soy, eggs, peanuts, tree nuts, fish, and shellfish.
Neil and Wendy's Journey
Neil developed multiple food allergies in his adulthood. His allergy to fish first surfaced while he was living in the Caribbean, and soon after he developed allergies to shellfish, nuts, basil, cinnamon and kiwi. His allergy is so severe that he can't consume meat cooked in the same oven as fish. About a year ago, both Neil and Wendy discovered they were gluten intolerant and on the advice of a Naturopath, adopted a strict elimination diet which involved no dairy, gluten, sugar or alcohol. Wendy explained, "Our own journey has been the inspiration to start FEAST. It was getting harder and harder to eat. And we were having a difficult time finding good prepared food. The inspiration was feeding ourselves well. We thought, if it is so hard for us, who have medical and food backgrounds, to find great food, how hard must it be for everyone else?"
Together they created recipes at home and after tasting their delicious creations, their friends encouraged them to open their own shop. That's when they thought "We should share the love." FEAST became a reality when about 2 years ago both Neil and Wendy were laid off from their jobs. "It was almost meant to be," says Wendy. "We were given the gift of time and started writing the business plan."
Trail blazers in the allergy-friendly space
In Neil's past experience working in regular kitchens he noticed a rise in special dietary requirements. Neil admitted, "It was starting to get really difficult to produce (specialized) meals to accommodate everyone's needs." Wendy added, "It is hard for a regular kitchen to accommodate quite a multitude of dietary needs, and if you've got people who are untrained in allergies and sensitivities in a regular kitchen, cross contamination is a very big risk."
The FEAST kitchen is completely free of gluten and the top 8 allergens. As people with food allergies, they understand exactly how important cross-contamination risks are. While there are no 100% guarantees, they do everything they absolutely can to minimize the risks of cross-contamination with thorough practices:
Every single ingredient used in the kitchen, including salt, spices, meat and produce are verified for cross-contamination risks with the distributor or manufacturer. "If we can't find it, we don't use it. We've had to alter recipes because of it," Wendy admits.
They favour companies who were founded by people who have experience with food allergies, and manufacturers who use dedicated facilities.
All staff are trained and certified on food allergens through Anaphylaxis Canada. They also signed a contract stating that they will not bring any outside food, gluten or top 8 allergen containing products into the store.
They subscribe to Anaphylaxis Canada's Allergy Information Service which reports on CFIA allergen-related food recalls.
They are fully transparent about all ingredients.
"We haven't found anything like this. There was a need for us, and we figured there was a need for others" explains Wendy. "Everyone likes to say that we're brave to try and do this." Allergen-free is a big promise and people are afraid to take these risks, but "the reality is, there's a lot of people that still need to eat. Everyone else is doing the groundwork for themselves and calling manufacturers. We have to do it for ourselves, so why can't we do it for you too."
For people with food allergies that are not included in the top 8, they will be able to tell them whether or not certain ingredients are used in their kitchen, but since these allergens haven't been verified with suppliers, they will be unable to know what the cross-contamination risks are. It will be up to the person to decide whether they want to consume it or not. "We hope to do top 10 (allergens) eventually," states Wendy. When they started 2 years ago, both Canada and US were using top 8 allergens, then Canada redefined their top allergens list by merging fish and seafood together, and adding mustard, sesame and sulphites to the list, but they were already too far along in terms of verification to turn back.
Catering is also a service they eventually hope to provide once they've crossed the start up hurdles involving store operations and staffing.
A HypeFoodie experience
I sat with Neil and Wendy in the front of the store on a perch overlooking Trinity Bellwoods park. They served me my first ever cup of steaming Crio Brü, brewed roasted cocoa beans that give you just the perfect amount of caffeine you need to pick you up, but doesn't result in an energy crash that you get with regular coffee. As a person that drinks espresso every morning, I was blown away at how satisfying the full-bodied cocoa flavor of Crio Brü was and I find myself craving another cup as I write this.
The next treat on my allergen-free culinary adventure was the Jerk Chicken Pocket Pie, which is now my new favourite savoury snack of all time. The jerk seasoning made with scotch bonnet peppers has the perfect amount of heat and you would never guess that the crust is gluten-free, because it holds the juicy pie filling together without getting soggy or falling apart. According to Neil, they're called pocket pies because you can stick them in your pocket for the day and they won't fall apart or crumble. I'll have to test that out one day. All pocket pies are excellent to take out and eat on the run, or take home and reheat.
My final indulgence that morning was the On Top of Coconut Caramel Mountain donut. This is one of the first things you'll notice on the counter display, as the large toasted coconut shavings sprinkled on top make it look more like a work of art than a donut. It's not surprising that this donut has gotten a lot of attention from customers on Instagram. It's one of the most delicious and satisfying desserts I've had, and one that you must experience for yourself.
Neil and Wendy take much pride in the amount of work they put into getting their recipes right. In the true HypeFoodie spirit, they meticulously selected their ingredients to ensure they are allergen-free, but don't allow those limitations to affect taste, texture and quality. It's important for them to be able to provide good food to everyone, not only people with food allergies or sensitivities. As a mother of a child with multiple food allergies and a self-defined foodie, they have gained my trust and confidence. I will definitely be back to pick up some Live On Chocolate frozen avocado pops before playing in the park with my kids, or stock up on some pocket pies to prepare for a week of take-out lunches. As an allergy-friendly community, let's support these trail blazers, because Neil and Wendy are working hard to create a safer world with delicious options for everyone with food allergies.
FEAST is located at 881 Queen Street West, Toronto, Ontario M6J1G5. Connect with them online at FEAST Fabulous Eats for the Allergic & Sensitive Types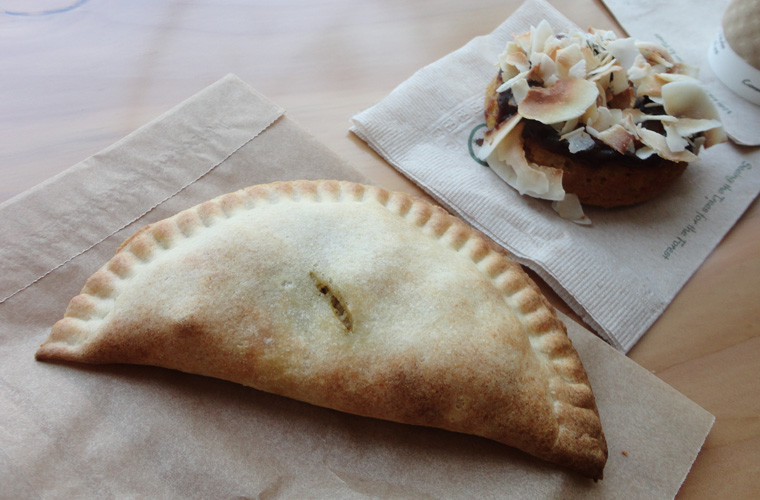 Allergen-free meal at FEAST: Jerk Chicken Pocket Pie followed by an On Top of Coconut Caramel Mountain donut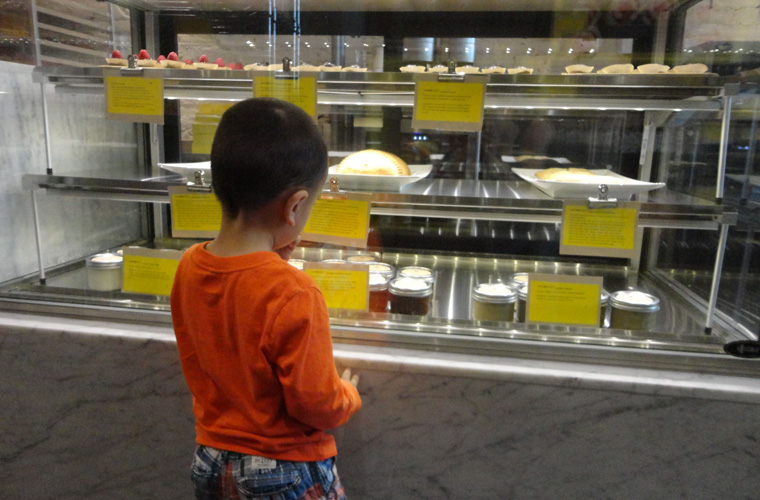 This is the first time that my toddler with severe food allergies to milk, eggs, peanuts and tree nuts can eat anything he wants on the menu.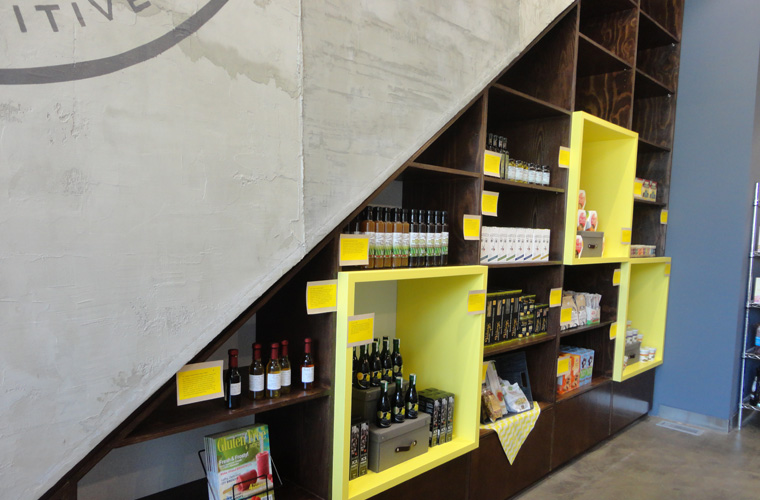 Allergen-free pantry staples like sauces, pastas, seasoning, and baking mixes.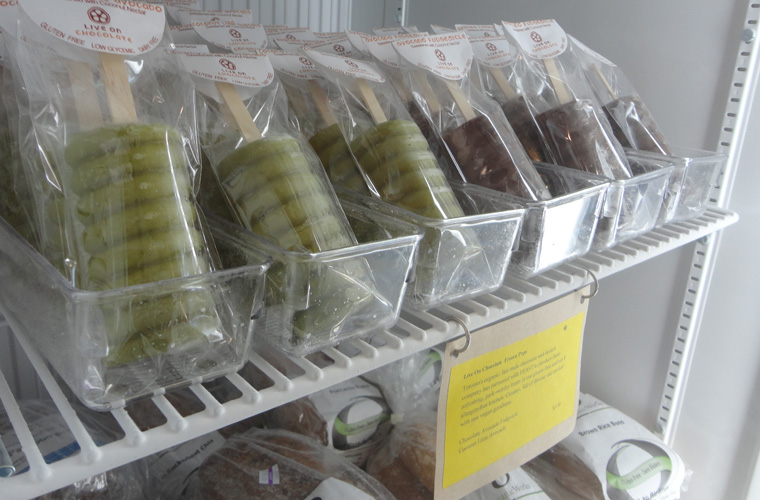 Avocado Frozen Pops made by Live On Chocolate, Toronto's Organic, Fair Trade Chocolate and Dessert company.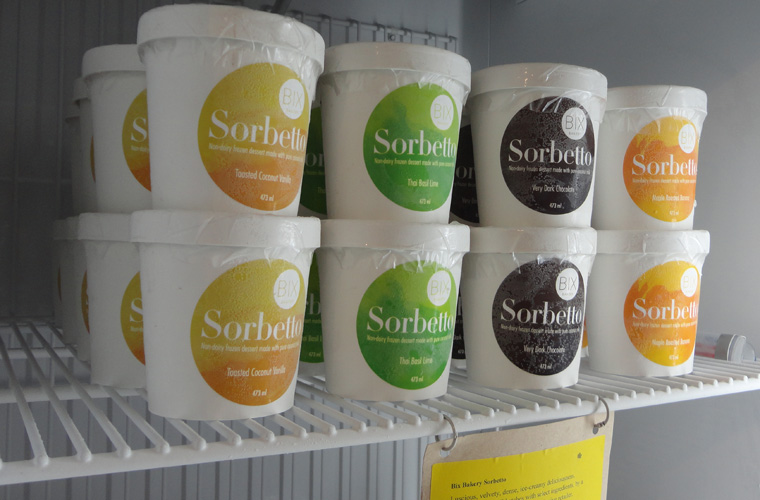 FEAST offers 4 flavours of handmade Bix Coconut Sorbetto: Toasted Coconut Vanilla, Thai Basil Lime, Very Dark Chocolate, Maple Roasted Banana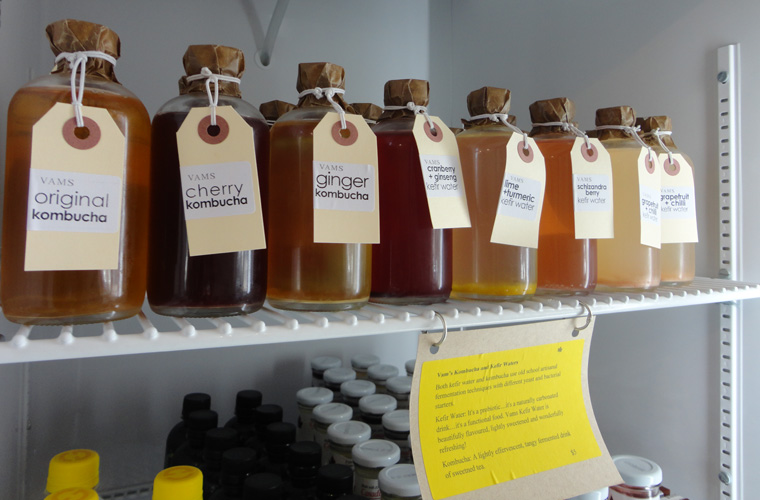 Ready to drink Kombucha and Kefir water, handmade in Toronto by Vams Kombucha. There are so many cool things to try, and they're all verified allergen-free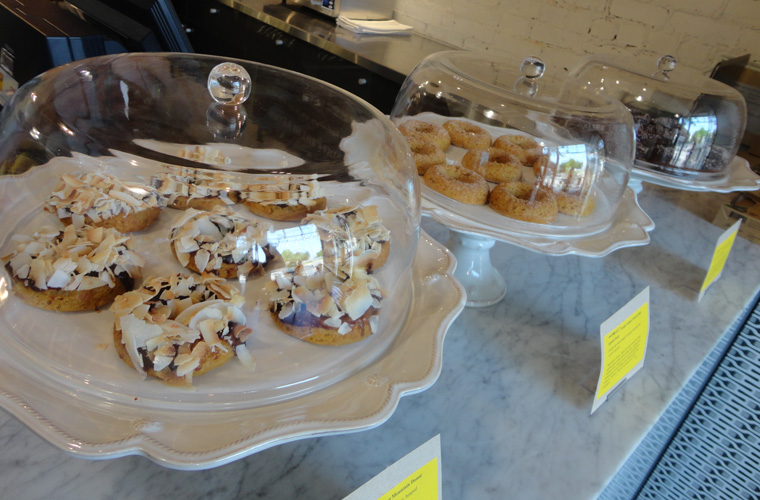 FEAST's donut trilogy: On Top of Coconut Caramel Mountain, Twinkle Twinkle Cinnamon Sugar Sprinkle and Triple Chocolate Love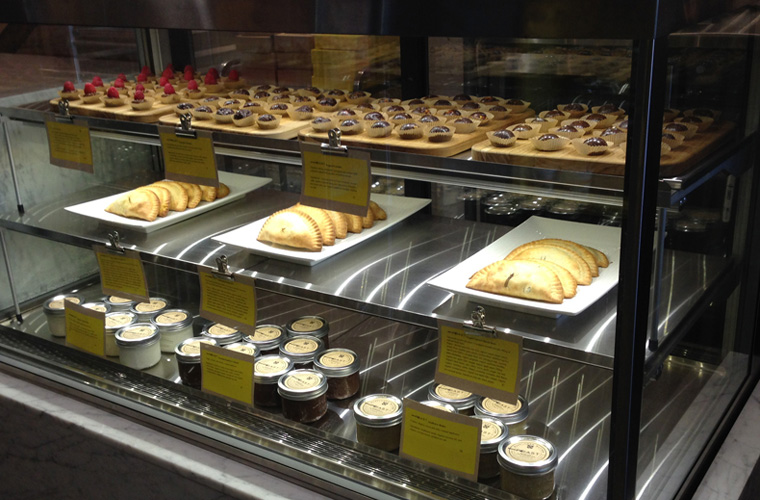 FEAST's Mouthwatering display of gluten-free and top 8 allergen-free Chocolate Avocado Mousse tarts, Coconut Milk Caramels, Pocket Pies and spreads