Last weekend my family and I watched a Blue Jays baseball game from the Peanut/Nut-Reduced Zone at the Rogers Centre in Toronto for the first time. As a mother of a child with multiple food allergies including milk and eggs, I am used to having my sons allergens served everywhere around us on a daily basis, so I was unsure whether this section would make a difference to our sport watching experience. The scale tipped in favor of going when the Toronto Allergy Education Group (TAEG) announced that they would be attending this baseball game as a group, and I decided to tag along. Now that I've experienced a nut-reduced baseball game, I have absolutely no regrets and will definitely be returning.
I think it's important to set a baseline before I start to talk about the peanut/nut-reduced zone. The last time we attended a Blue Jays baseball game, it was against the NY Yankees and almost all seats were full. It was an exciting game, but I couldn't concentrate on what was happening on the field because all I could focus on was the cracking peanut shells two rows behind us and in front of us. Every time one of the concession sellers walked up the aisle offering bags of peanuts, I would brace myself and hope that people sitting near us wouldn't buy them. Luckily we didn't have any serious reactions that night, but my toddler did end up with hives all over his arms and neck from contact. My stress levels were high and I was on guard the entire game. Obviously it wasn't my favourite night of all time, but my son had a blast and still talks about how much fun baseball games are, so it was worth it to go for the positive memories.
Peanut/Nut-Reduced baseball experience
I didn't really have any expectations leading up to game day. I had received e-mails with information and instructions on where to pick up our tickets and submit a signed waiver ensuring that we wouldn't bring any nuts with us to the section. I didn't realize until I got there how serious the Blue Jays organization is about keeping their peanut allergic fans safe. I've been to many games at various spots around the Rogers Centre, but this is the first time I felt like I was given preferential treatment.
Our afternoon started at Gate 1 where there were big "Peanut/Nut-Reduced Zone" signs, so it was really easy to find the table to pick up tickets and submit waiver forms. Friendly Blue Jays staff welcomed us. They had our names on a list with our tickets ready. We didn't need to deal with the large crowds and chaotic lines for security check because there was a separate nut-reduced entrance with it's own security, which led directly to the nut-reduced section.
Inside the stadium, there were big signs indicating the "Peanut/Nut-Reduced Zone" and there was staff at almost every corner that could direct you to the section. There was even a dedicated usher who remained at the nut-reduced section for the entire game. On top of all that, there were nut-reduced bathrooms located just behind the section. I was impressed at how seamless it was, and how much thought and planning went into minimizing the risks of cross-contamination. It really makes my heart happy when organizations "get it."
This is also the first time I felt connected to my neighbours at a baseball game. It felt like there was an unspoken camaraderie amongst everyone in that section, because we all live with food allergies in one way or another. I think the highlight of my afternoon was when the entire section sang happy birthday to a little boy in between innings.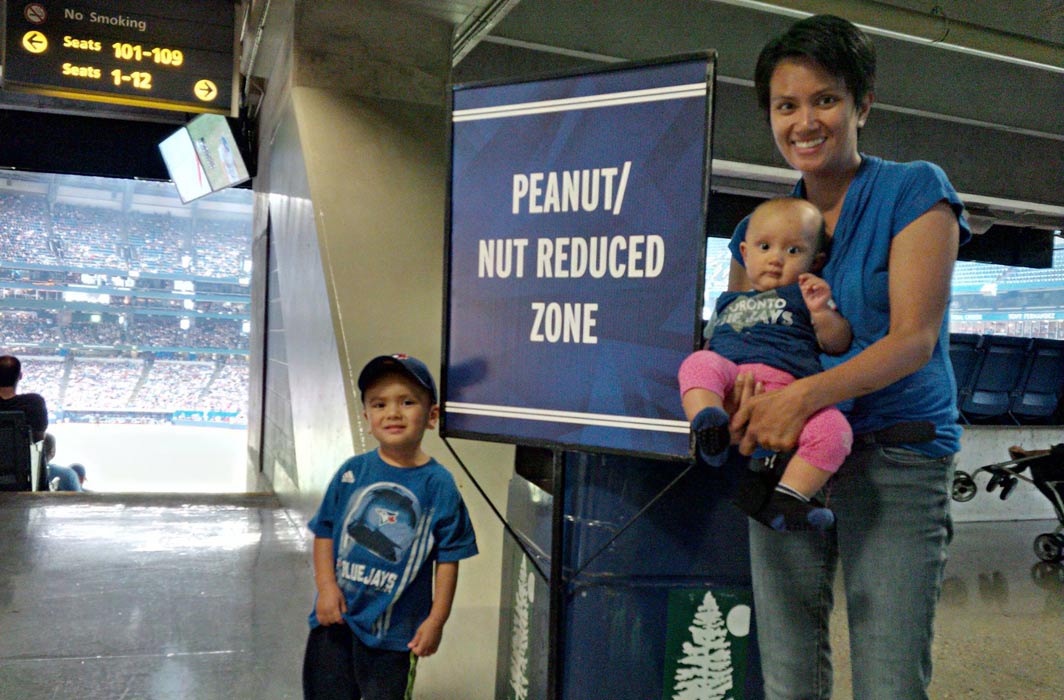 It was an amazing afternoon. I enjoyed a gluten-free cider and watched the Jays win. My son soaked in all of the over-stimulating sounds and sights of a baseball stadium, and left the game without one single hive on his body. We will definitely be attending more baseball games in the Peanut/Nut-Reduced Zone.