Halloween is less than 2 weeks away, and as always, I have a long list of things to do that I haven't started. My Halloween related to-do list includes fun things like planning costumes, making treats for my family, finding allergy-friendly candies and, of course, preparing non-food treats to distribute so that we can participate in the Teal Pumpkin Project.
The Teal Pumpkin Project is a movement that was started by FARE in 2014 to raise awareness about food allergies. Displaying teal painted pumpkins on Halloween tells trick-or-treaters that non-food treats are available. I absolutely love the idea of providing non-food options for children. Not only because I am a mother to kids with food allergies, but because as a child, I valued trinkets and toys. I honestly feel that the Teal Pumpkin Project is enhancing the trick-or-treating experience for everyone.
This is the 4th year that we're participating in the Teal Pumpkin Project, and I'm amazed that teal pumpkins are becoming more popular across all neighborhoods and even being featured at major retailers. At the same time, I'm also feeling conflicted because I can't help but think of all the waste coming from knick-knacks, and the negative impact of plastic on ocean mammals and other animals.
After a little bit of research, I found the perfect way for my family to participate in the Teal Pumpkin Project in an environmentally responsible way. It came with the added bonus of spending a fun afternoon crafting with the kids and also helped us clear some of our household clutter. We decided to make Crazy Crayons with the broken and unusable crayons that take up space in a bin on our craft shelf.
How to make Crazy Crayons
Materials needed:
crayons
crayon mold: mini-muffin pan or silicon bakeware with festive shapes
oven
optional: cutting board and knife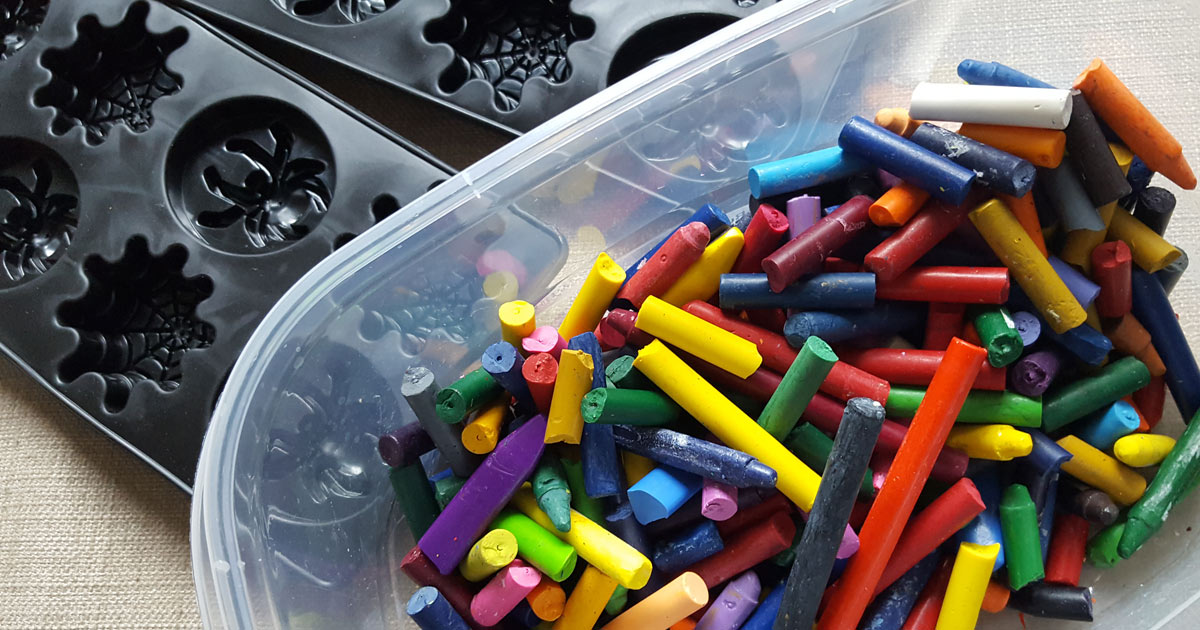 1. Find broken, unusable or unwanted crayons and remove the paper wrappers.
I gave this task to my children and they had a great time peeling off the papers, but it was time consuming work and we had a lot of crayons to go through. For a short cut, soak the crayons in hot water from the tap for at least 30 seconds and the paper easily peels off.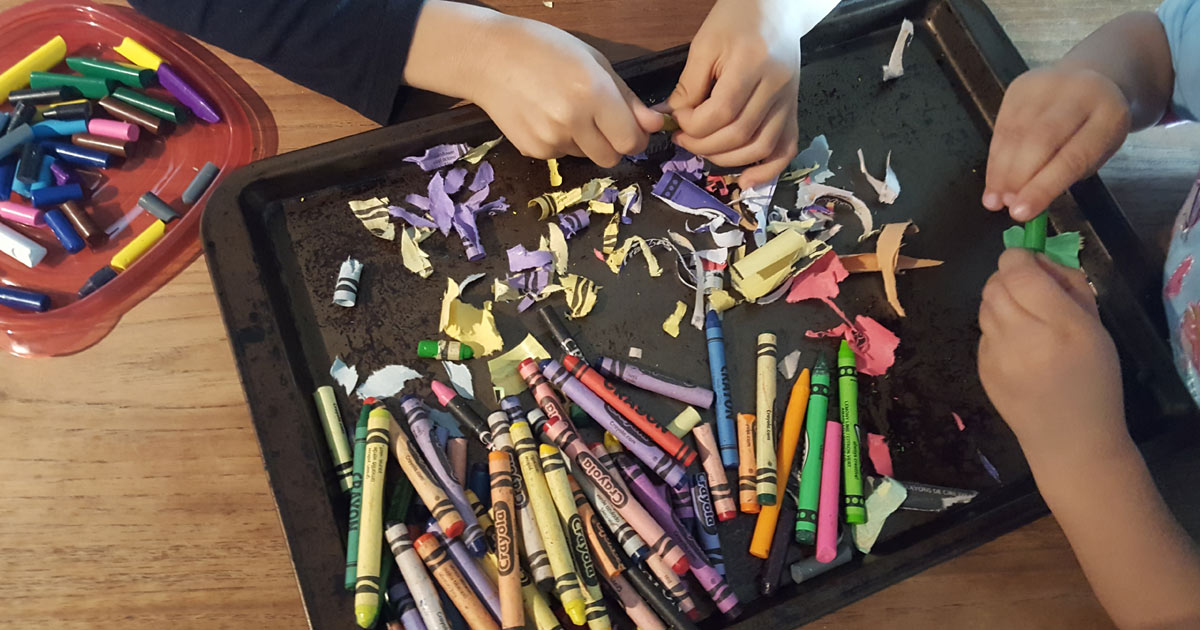 2. Break the crayons into pea-sized pieces.
Once the wrappers are removed from the crayons, break them into small pieces, about the size of a pea. Using a knife and cutting board to cut multiple crayons at once saves a lot of time.
Separate the colors so kids can create unique color combinations.
3. Fill the molds with crayon pieces.
I'm told this was the funnest part of the craft project.
4. Melt the crayons
Preheat the oven to 275°F. Place crayon molds on the center rack and bake for 10-15 minutes, or until crayons are fully melted. If using silicon bakeware, place the molds on a cookie sheet to make it easier to remove from the oven.
5. Remove the shapes after they have cooled.
Remove the molds from the oven and allow them to cool for 1 hour or longer, until they are hard. Remove crayons by inverting the mold or mini-muffin pan. If the crayons stick to the mini-muffin pan, place it in the freezer for an hour, and the crayons will pop out easily.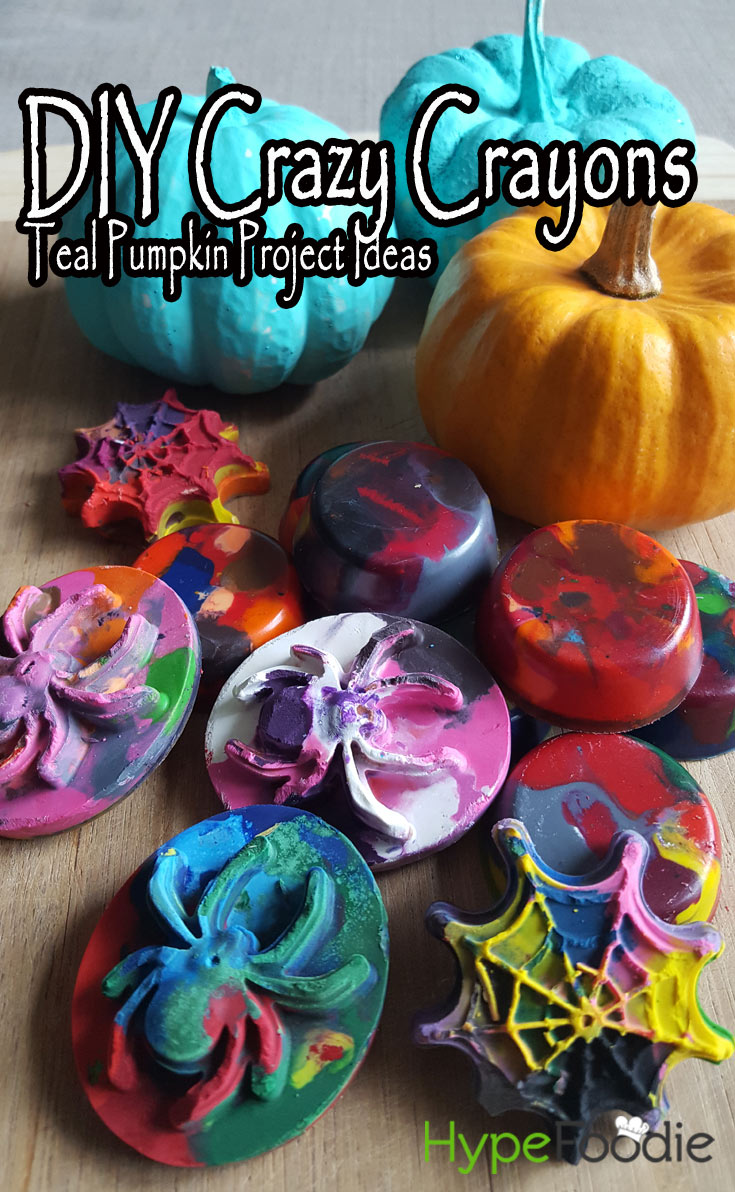 Other "Green" Teal Pumpkin Project treat ideas
I started a list of non-wasteful and environmentally responsible Teal Pumpkin Project giveaway treats that kids would love. It's not a huge list, but I wanted to share it and hopefully encourage anyone who is displaying a teal pumpkin to also think green.
1. Pencils and Pens
Halloween themed pencils and markers are easy to find, and most kids get a kick out of fun-looking school supplies. Writing instruments are useful, promote creativity and literacy, and when they are no longer useful to you they can be recycled at Staples stores. Pencils are also reusable in crafts.
2. Activity Books or Notepads
Halloween themed small activity books are a great giveaway. If you can't find small activity books, Halloween themed notebooks are also fun, and can be used for drawing, writing notes and games like tic-tac-toe. Paper is also recyclable.
3. Sidewalk Chalk
Sidewalk chalk is always a hit. Buy a pack and split it up. Make sure to get a reputable brand to ensure that the chalk is lead-free.
4. Seeds
A package of seeds to encourage gardening in the spring is a fun gift to receive. Give seeds that grow easily like marigolds or wild flowers to encourage young gardeners.
5. Wood Crafts
Popsicle stick craft sets to make puppets, small houses, picture frames or other fun toys can be easily found in dollar stores. The sets often come in packs of 10, and can be divided for a little teal pumpkin treat. A DIY option is to look up an easy Halloween popsicle stick craft online, and fill a small paper bag with instructions and the materials needed to make it.
What environmentally friendly items do you hand out for the Teal Pumpkin Project? Send us a note via Facebook, Twitter or Instagram and we will add it to our list!