This is the story our unforgettable family vacation to Mexico and how we successfully managed two 4.5 hour flights with our 3 children under the age of 6 and avoided 7 of the 8 top allergens in a country where we don't speak the native language.
This summer was a busy one with many significant life changes. By mid-August, both my husband and I felt exhausted and worn down, and we knew we needed to recharge. So we booked a last minute vacation to Mexico.
It's been years since we've gone on a "real" vacation – a.k.a. hot country, sea breeze, lounging by the pool and truly going offline for a few days. Before we had kids, my husband and I regularly vacationed at all-inclusive resorts, as they were the easiest vacations to take, but my perspective has changed drastically since my children were diagnosed with food allergies.
I did some research and knew that some resorts were able to manage food allergies well, but we decided that we wanted to avoid the all-inclusive resort experience. I'm allergic to shellfish, which is generally easy to avoid, but my eldest is 6 years old and allergic to dairy, eggs, peanuts, tree nuts, and wheat, and my youngest is allergic to fish and eggs. I didn't want them to have to sit through daily buffets full of dishes that they can't eat. We prefer to eat family meals that all 5 of us can safely consume to make sure no one feels excluded, so my husband and I opted to rent a condo with our own kitchen in a lovely tourist town called Playa Del Carmen in the Mayan Riviera.
Packing Luggage
Since I didn't know what to expect from Mexican grocery stores, I planned to only purchase fruits, vegetables and fresh meats during our trip. I packed staples like rice cakes, cereal, a couple of bags of gluten-free pasta, and granola bars, along with items that my kids love like allergy-friendly candy and cans of baked beans. I also brought small containers filled with items that I wouldn't want to repurchase for a short 1 week stay like spices, rice and oil.  We often travel with a rice cooker, but our condo was fully equipped so I didn't bother to bring any small appliances. We did, however, bring a small selection of food containers so that we would be able to pack food for day trips. Finally, I packed ingredients to make at least one meal in case our flight got delayed or some unforeseen reason prevented us from going to the grocery store right away.
In my hand carry, I packed a hot meal for each child in their Thermos, a package of rice cakes, some ham and a bottle of Sunbutter. We usually fly with Sunbutter or soy butter for domestic flights without issue, but this time the airport security agent told us that nut butters were considered a liquid/gel and the bottle was too large. Luckily we had a letter from our allergist stating that our children had medical reasons for packing food, so they did not confiscate it. To avoid issues in future travel, I will bring the small single portion packages instead.
We carried all 5 of our Epipens with us in our hand carry bags. None of them were packed in our checked baggage.
Grocery Shopping in Mexico
Like I said earlier, I didn't know what to expect from grocery stores in Mexico. Playa Del Carmen has a Walmart and the shopping experience was similar to the stores in US and Canada, but our trip was planned so quickly that I didn't have time to research labeling laws or allergy-friendly Mexican brands.
The experience of shopping at a grocery store in a different country with all labels being in a different language was very similar to the first time I went grocery shopping after our dairy allergy diagnosis. Luckily I knew the Spanish words for our allergens because I had the AllergySmartz app so it wasn't too difficult to read labels. It was easy enough to find fresh meats and produce, but I had to walk through every single aisle to find dairy-free milk. I was pleasantly surprised at how many dairy-free options there were.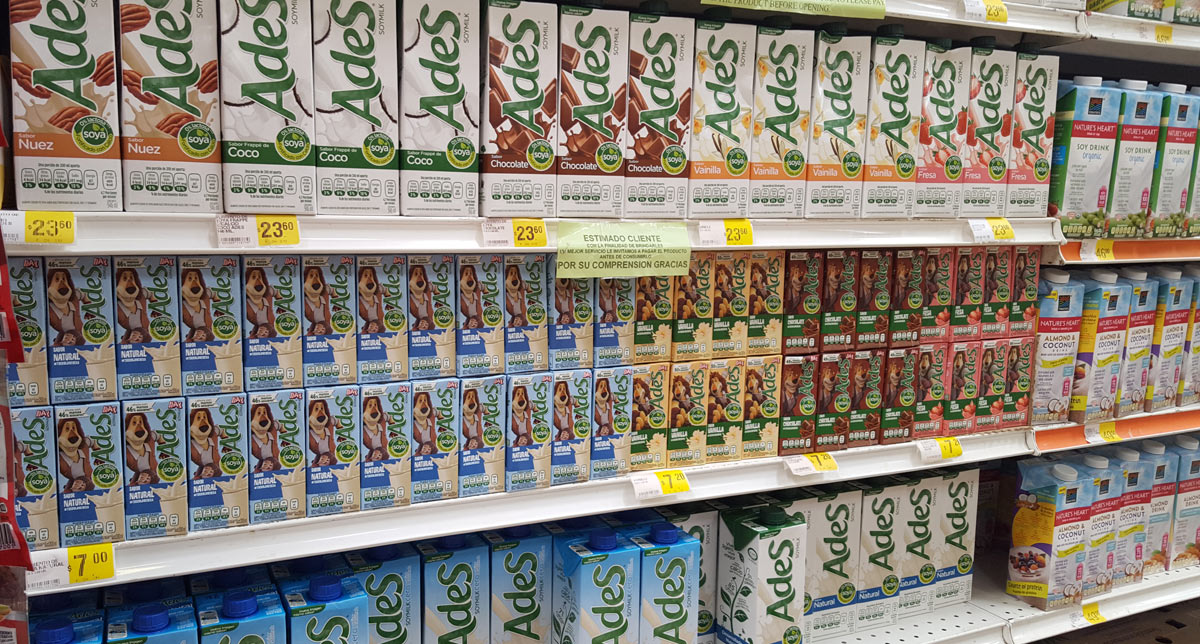 An impressive selection of dairy-free milks.
My son is allergic to wheat, so I was thrilled to find so many local gluten-free options to choose from. We were able to buy corn tortillas, tostadas and totopos. Many products were actually labelled gluten-free (Libre de Gluten). I even found gluten-free pasta.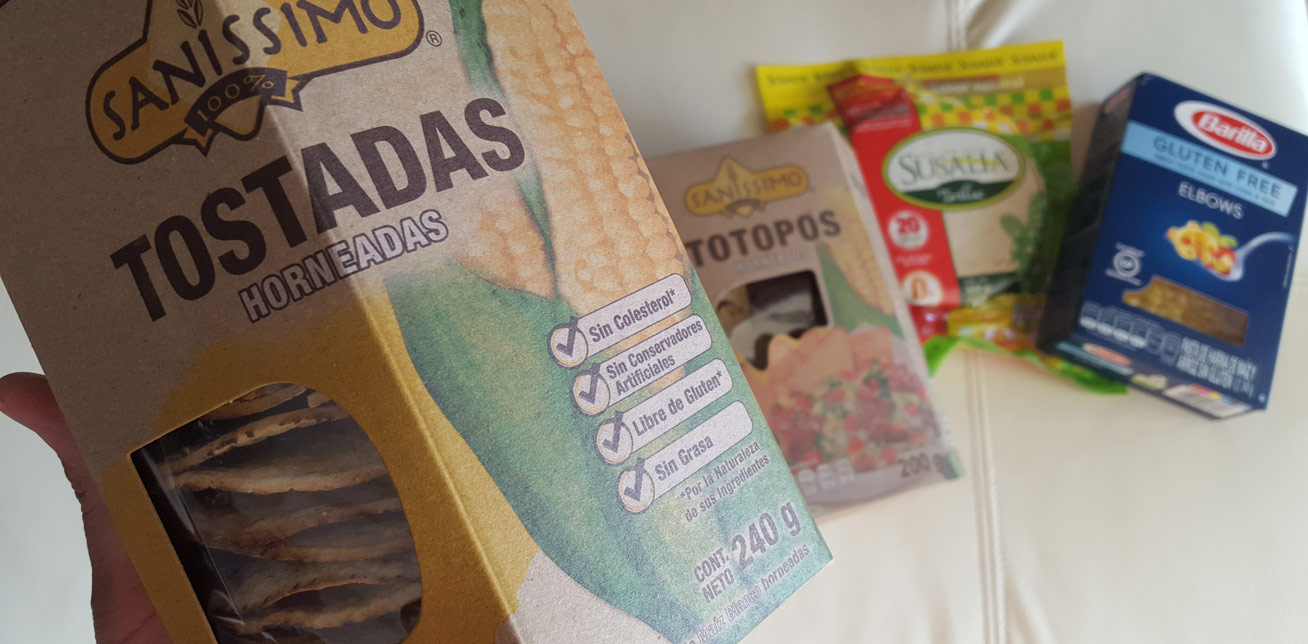 The best part of grocery shopping in Mexico was the amazing selection of fresh local fruits. We bought avocados, limes, mangoes, bananas, plantain and papaya. We even tasted prickly pear cactus and pitaya (dragon fruit) for the first time.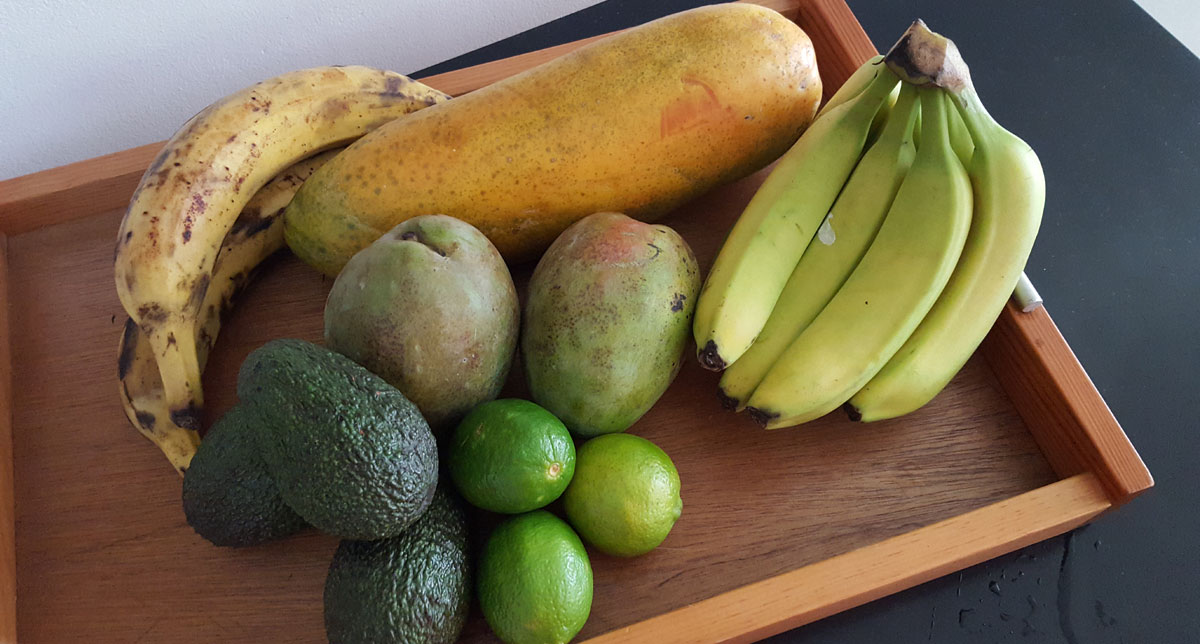 Cooking in Mexico
Before leaving, I put together a rough meal plan for the week to help with grocery shopping. I knew I wanted the kids to try some local dishes while we were there, so the first few days I peeked at restaurant menus and looked at what everyone was eating for some inspiration. I also did a few online searches for a seasoning ideas.
I learned that cooking while on vacation is more fun than at home … for the simple fact that you're on vacation. We made guacamole everyday. I diced fresh Jalapeño peppers, cilantro, garlic, onions and tomatoes, and mixed it with mashed avocados and fresh lime juice with salt to taste. It was perfect with chips or as a condiment on our meat.
The meat we purchased was so fresh that it didn't really require too much in terms of marinade. I used salt, pepper, lime, oil and a vegetable all spice to marinate the meats and cooked them on the BBQ or a pan.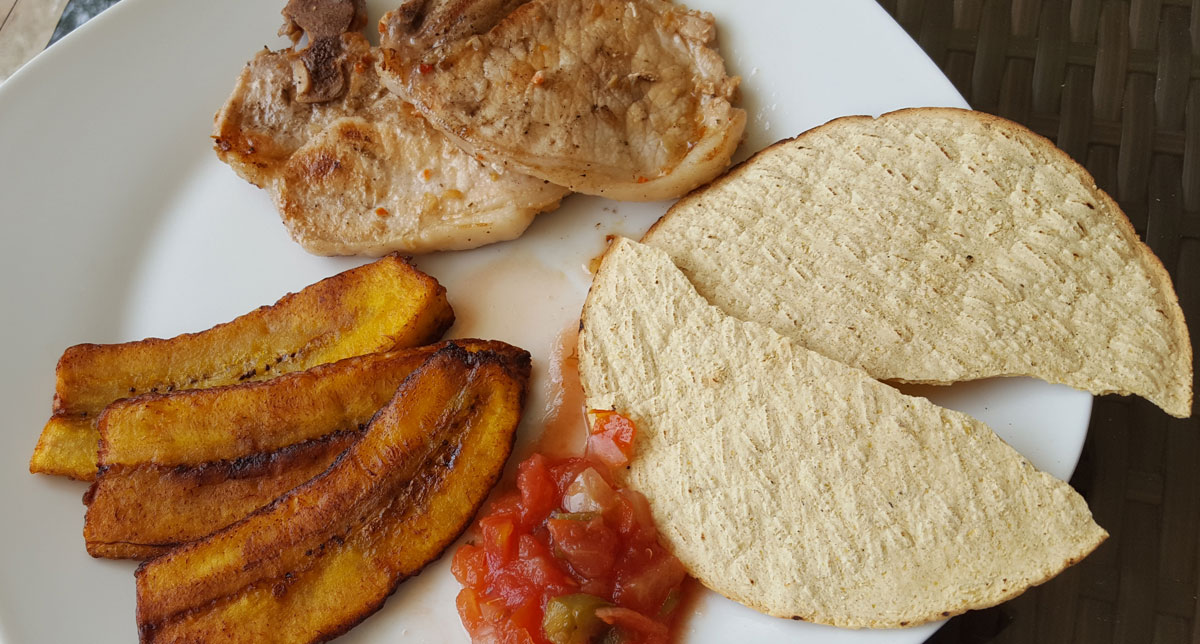 BBQ pork chops, pan fried plantain bananas, and tostadas with salsa (Free from gluten and top allergens)
I was thrilled when I found gluten-free, nut-free corn tortillas at the grocery store. I was so excited to make the family some beef tacos. I pan seared some thinly sliced beef tenderloin, and topped it with a zesty corn and avocado salsa. This was my favorite meal of the entire trip!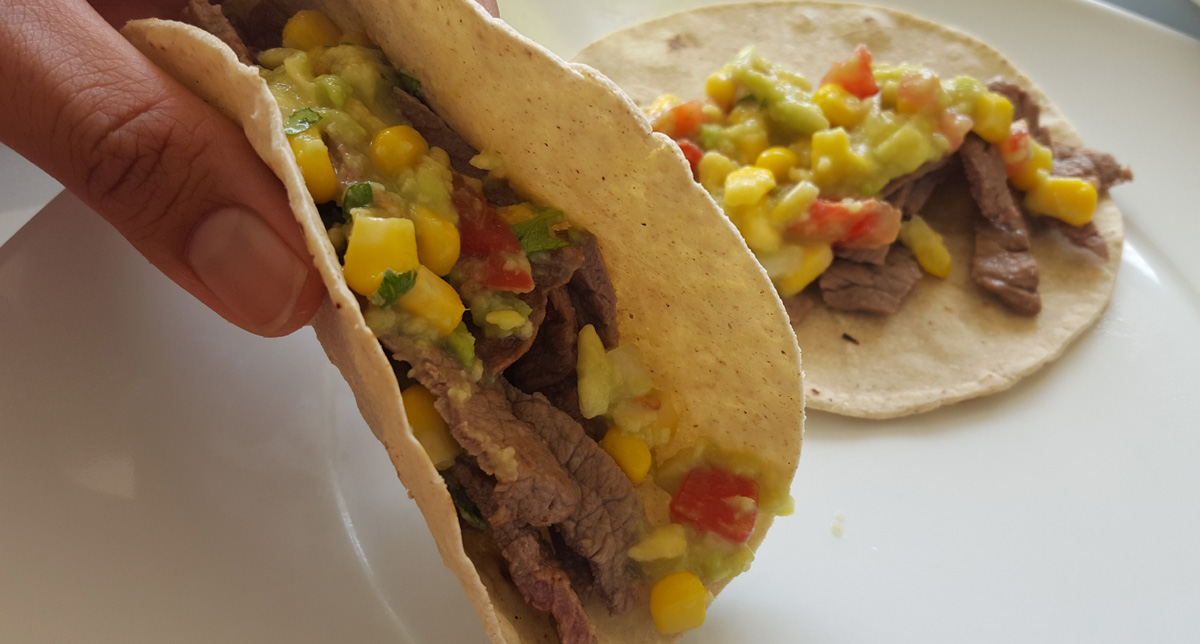 Beef Soft Tacos with Corn and Avocado salsa (Free from gluten and top allergens)
Towards the end of the week, my kids started craving some of their comfort foods. We were able to find some imported broccoli and cauliflower and a local brand of bacon at the grocery store. We were all obsessed with tostadas the first time we tasted them, so I didn't bother to look for gluten-free bread. Tostadas are deep-fried or toasted corn tortillas that are flat, and we loved them so much that we used them as chips to dip into guacamole or salsa, as a replacement for bread or just a crunchy snack. For one of our meals, I made Bacon Cucumber and Tomato Tostadas.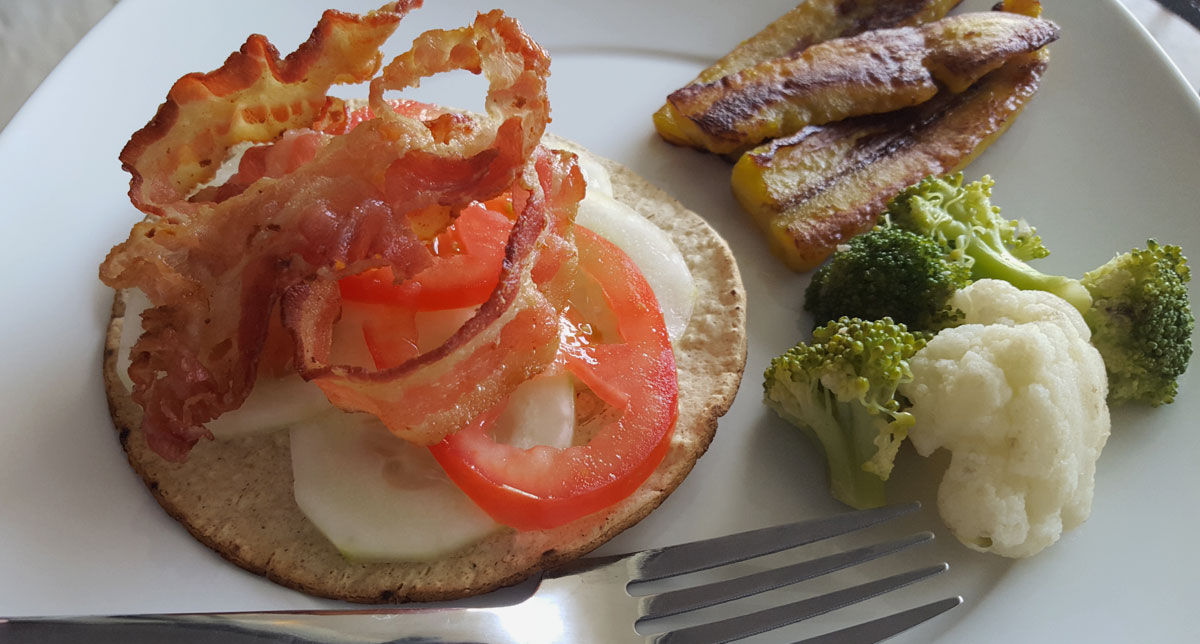 Bacon, Cucumber and Tomato Tostadas with pan fried plantain banana and steamed broccoli and cauliflower.
(Free from gluten and top allergens)
We mostly kept things simple for breakfast. I brought cereal, rice cakes and Sunbutter with us from home, and we would eat a selection of fresh fruit on the side.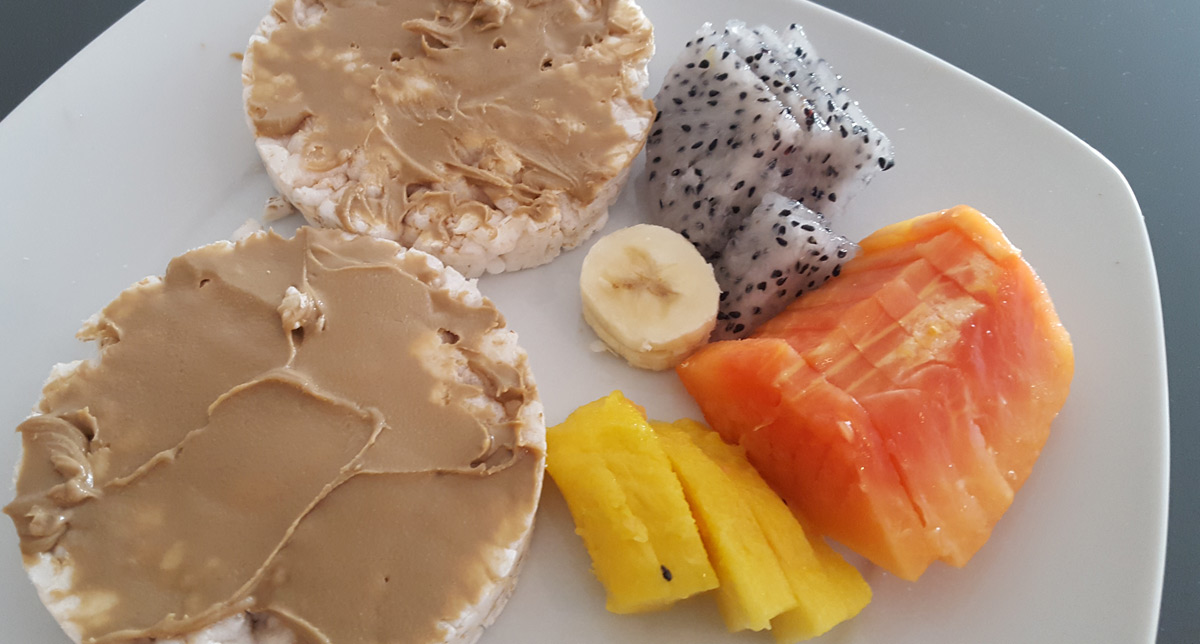 Rice cakes with Sunbutter and fresh pitaya, banana, mango and papaya for breakfast
(Free from gluten and top allergens)
Eating Out in Mexico
There were surprisingly many gluten-free, dairy-free, egg-free and nut-free options to pick from in Mexican restaurants. Unfortunately, with the cheese and the peanut-containing mole sauce in most kitchens, I wasn't very confident in their ability to avoid cross-contamination. We generally ate at home and had drinks or coffee at restaurants.
In some cases, we allowed our kids to eat restaurant-made guacamole or drink freshly squeezed juice. This was only if we gained full confidence in the staff and kitchen after a discussion about food allergies.
Most servers were perfectly fine with our kids bringing in their own food, as long as the adults were ordering meals. In the future, It'll definitely help to learn how to ask if your child with allergies can bring their own food into the restaurant in Spanish, or at least have it written out on a paper. We were grateful for this kind of accommodation, as the kids were able to experience a Mariachi band serenade at a restaurant.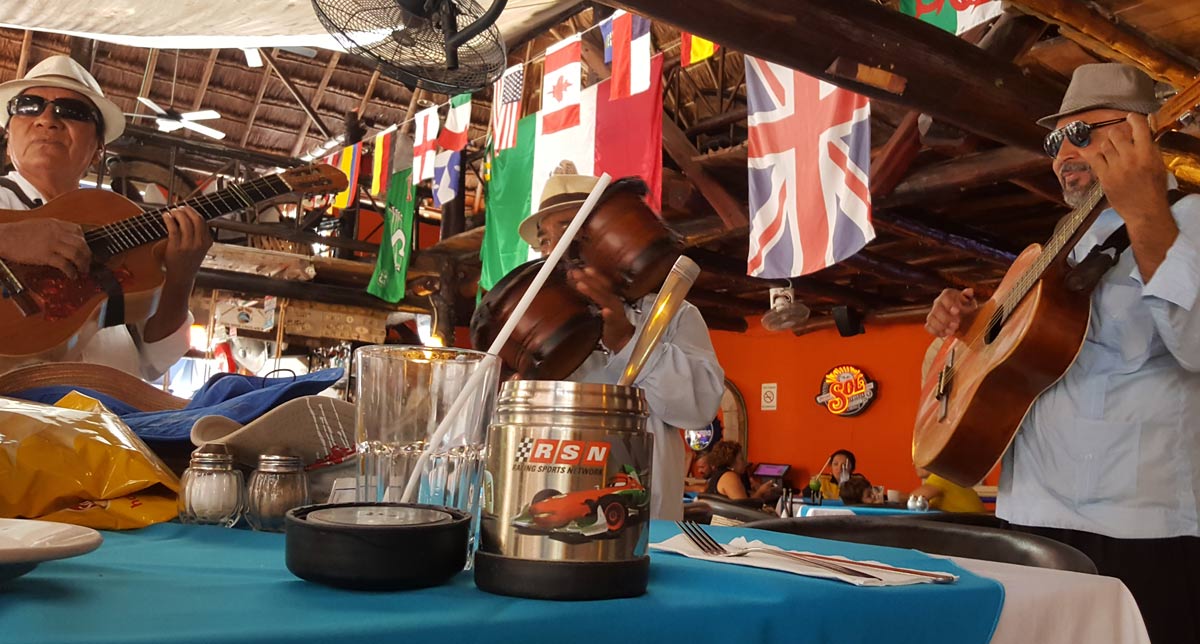 Mexican Mariachi band serenading our table at a local restaurant
And of course, mother nature provides delicious allergy-friendly treats.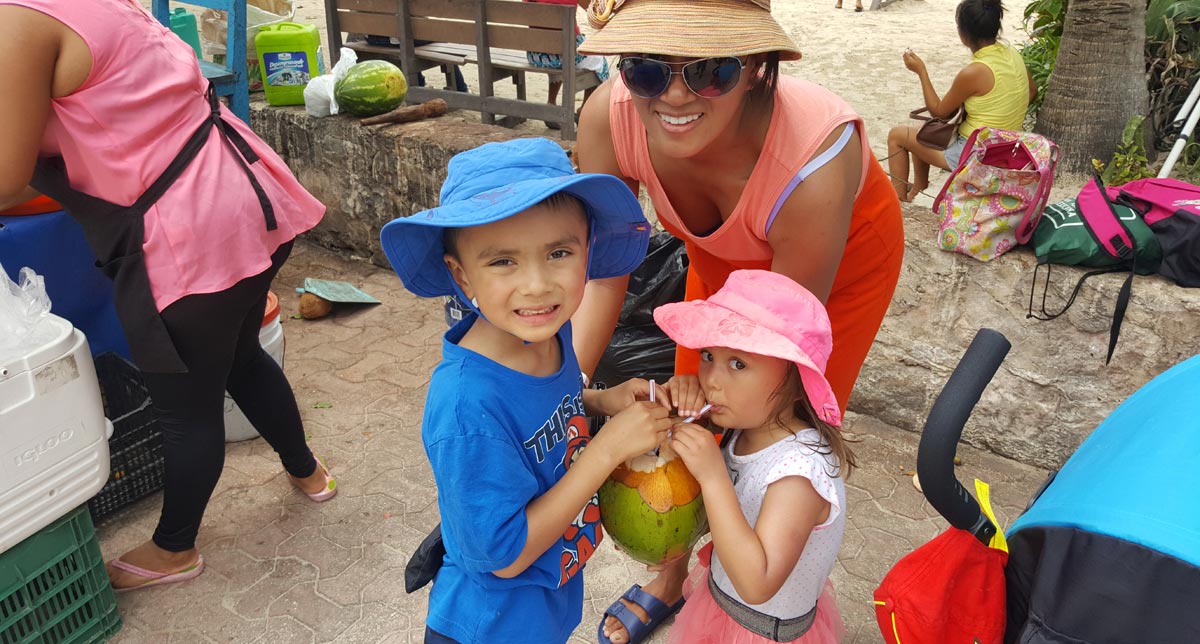 Sharing coconut water on a hot day
This was an unforgettable trip that I would've been too afraid to take a few years ago when they were babies. This success story has only given my family, most importantly my children, the confidence to know that travelling with food allergies is possible.
Bon voyage!!