While my 5 year old son and I were watching TV, we saw a commercial for a donut shop, and my son turned to me and said "I don't eat donuts. I'm allergic to donuts."
I was really bothered. It was the first time I realized that my son had imposed limits on himself because of his food allergies. We listed his food allergies together. He is allergic to dairy, eggs, peanuts, tree nuts and wheat. I explained that he's allergic to the ingredients that most donuts are made with, but not the donuts itself. I felt that I needed to prove a point to him, so we turned off the TV and decided to make donuts that he could enjoy.
Luckily my mother-in-law had given us a donut baking pan for Christmas, so I didn't need to pull out the deep fryer. Instead of using my favorite gluten-free vanilla cupcake recipe, I decided to use the box of gluten-free cake mix in my pantry – I bought it after a friend used it to make gluten-free cupcakes at her daughters birthday party. The Betty Crocker gluten-free cake mixes do not contain any dairy or eggs. They have a "may contain soy" warning, but soy is not one of our allergens.
The instructions on the box are so simple. You just need to toss the contents in a bowl, and add water, butter and eggs.
To make the recipe dairy-free, I replaced the butter in the recipe with the same quantity of vegan butter. If this is not readily available in your home, vegetable oil or coconut oil will work just as well.
There are many egg replacement options available to make the recipe egg-free. I decided to use aquafaba, the bean water from a can of unsalted chickpeas, because I find that it's an excellent egg replacement for binding that doesn't alter the flavor of your baking, and I was looking forward to eating some sesame-free hummus later that day. 1/4 cup of aquafaba replaces 1 egg, so I ended up using 3/4 cup of aquafaba in total.
Some other egg replacement options are:
Banana: 1 egg = 1/4 cup mashed banana. Using banana is very effective for binding, but it has a very strong taste. Since the recipe called for 3 eggs and the mix was vanilla flavored, I chose not to use banana, as it might end up tasting like a banana bread. My friend used mashed banana with the chocolate cake mix and it tasted amazing.
Applesauce or fruit puree: 1 egg = 1/4 cup of fruit puree. The best purees to use as an egg replacement in baking are made of fruits that are high in pectin, like apples, pears or pumpkin.
I followed the instructions to prepare the batter, poured it into my donut pans and used the baking time for cupcakes. In my experience, gluten-free baked goods tend to crumble if you attempt to do anything while it is fresh out of the oven. Once the baked donuts were done, I put the entire pan on a wire rack and allowed the donuts to cool 5-10 minutes before inverting the pan and popping out the donuts. It worked like a charm!
How to make the Chocolate glaze for the donut topping
I wanted our donuts to look just like the ones on the commercial, with a shiny chocolate glaze. I looked up some chocolate ganache recipes and made some modifications and came up with a delicious chocolate glaze that solidified but did not harden.
Ingredients:
1/3 cup dairy-free chocolate chips (I used Enjoy Life)
3 Tablespoons dairy-free butter
Use a double boiler to melt the chocolate chips and butter. Mix well with a spatula. Once the butter and chocolate are fully combined, remove from heat and dip your donut. Garnish with allergy-friendly sprinkles.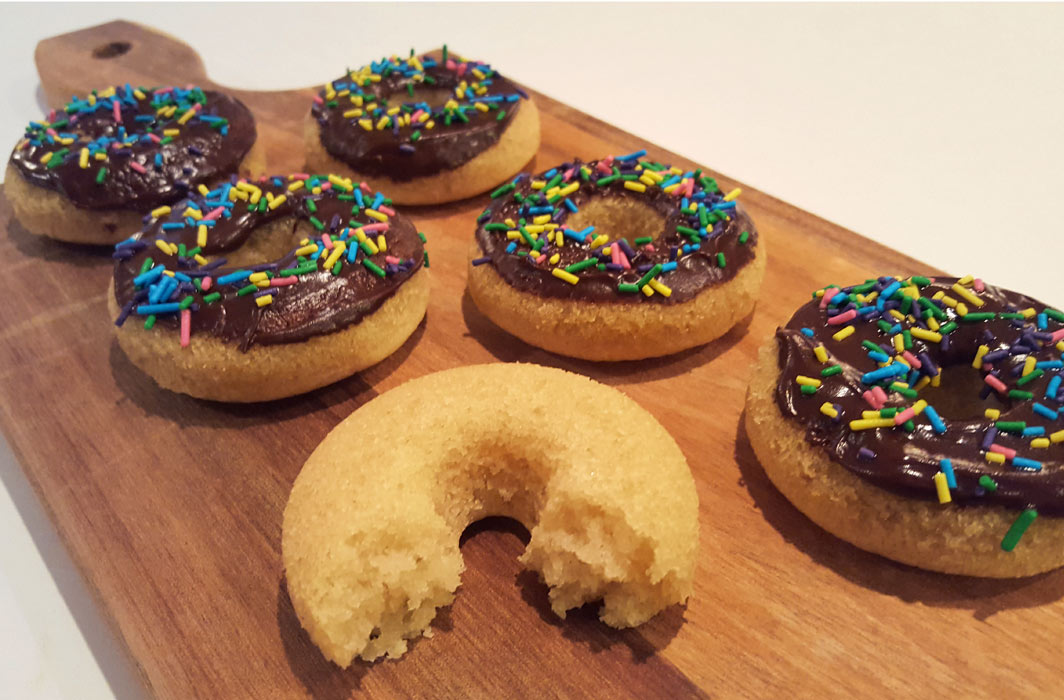 The donut itself tasted wonderful with a light and moist texture. We kept half of the donuts in an airtight container in room temperature until the next day, and the taste and texture remained intact. The other half was kept in an airtight container in the freezer. We would remove them from the freezer and let the donuts sit and defrost for 5-10 minutes before eating and they tasted exactly like they did the day that they were baked.
The Betty Crocker gluten-free cake mix is impressive. It's about $4 more expensive than regular cake mixes made with wheat flour, but worth it for the convenience of not needing to purchase a pantry full of gluten-free flours and gums. I'll most likely pack a box or two with me when we go on vacation next month.